Everyone has a few quirks. A big one of mine is to travel each year to a place I've never been and do a 100-mile bike ride. Since 1996, I've travelled across the US to a new spot each year to do a bicycle "century" ride. At first, I did them for the adventure and to stay in shape. But they morphed into something bigger along the way and became pieces of a puzzle showing how geology and climate change have impacted our country. I rode the "Hotter Than Hell 100" in Wichita Falls, TX in 2013, which lived up to its name with an air temperature of 102 degrees. The natural waterfall that gave the town its name was no longer- having been taken out by a flood in the 1800's. In 2015, the "Cycle Greater Yellowstone" ride passed trilobite fossils embedded in Wyoming cliffs from the Eocene epoch (34 to 56 million years ago) when a vast, shallow sea covered the state. This year, I went to the heart of Cajun country in Louisiana for a Bayou Century Ride.
Central Louisiana prospered in the 1700's when French Canadians (known as Acadians) were lured to the area from Nova Scotia with the promise of a better future. The Acadians created the Cajun culture by combining their French traditions with their new bayou homes. They hunted, fished, trapped and raised cotton. Cotton was replaced by rice and sugarcane fields after the Civil War and through the 1800's. Next up was the oil industry, which drilled its first well in a rice field near Jennings, LA in 1901. Today, over 205,000 oil wells exist in the state. Climate concerns and the need for a cleaner environment are making oil a tenuous business, and Louisiana suffers some of the harshest climate impacts of any state. Louisiana's Gulf Coast region accounts for nearly half of the US mainland's coastal wetlands. Yet since the early 20th century, the commercial ventures of oil exploration and logging, along with hurricane damage, have led to the destruction of almost 2,000 square miles of wetlands. Louisiana has been hit with 28 hurricanes since the year 2000. The strongest was Hurricane Katrina in 2005, causing over 1,800 deaths and $100 billion in damages. The second-strongest, Hurricane Ida, occurred on August 29, 2021 (ironically, the 16th anniversary of Katrina), rendering the entire state a FEMA "Disaster" area.
According to a 2020 ProPublica study, an estimated 4 million US residents will become "climate refugees" between 2040-2060. They will move to the north and midwest as the southern and coastal regions of the US become too difficult to live in. When we hear the term "climate refugees" we tend to think of people in countries thousands of miles away. We think of heat waves in India causing residents to move to cooler locations or of sea level rise in Indonesia that is forcing the entire city of Jakarta to move to higher ground in Borneo. In reality, climate refugees are all around us and their numbers are on the rise. As the ProPublica study shows, the need for habitable land, freshwater and safety will be driving millions of Americans to flee sea level rise, wildfires, extreme heat and drought in the coming decades. No federal agency has authority to lead national assistance on climate migration efforts. This is a problem that needs to be solved- quickly.
St. Martin Parish, Louisiana is ranked number 3 on the "most at-risk counties" due to climate change (behind Beaufort County, SC and Pinal County, AZ). My Bayou Bike Ride was centered in St. Martin Parish, starting in the town of Breaux Bridge, Louisiana. The self-proclaimed "Crawfish Capital of the World", Breaux Bridge could have been the original movie set for "A River Runs Through It", as the Mississippi River cascaded directly through the area 5,500 years ago. Like any river, the Mississippi is always in search of the path of least resistance, and it shifted eastward over millennia, carving out new channels as it went.
Ever-changing outlets and inlets formed Louisiana's bayous. A bayou is technically a slow-moving stream. It differs from a "swamp" because swamps are stagnant water bodies with no flow-through, although their waters may rise and fall seasonally. Louisiana's coastal bayous contain a mixture of saltwater and freshwater, known as brackish water. Vast cypress forests thrive here, as do alligators and over 200 species of birds. The shifting path of the Mississippi created healthy swamps and bayous, but caused irreparable damage to communities displaced by the whims of the River. In Breaux Bridge, it left behind a channel that now holds Bayou Teche. The town of Breaux Bridge was inundated with 25' of water in 1929 when the Mississippi River flooded. To prevent this from happening again, the US Army Corps of Engineering developed the Atchafalaya Basin Project, a series of levees and locks that contain an 833,000-acre floodway to catch Mississippi River floodwaters. Breaux Bridge is protected by a levee to the east of the town, a 30-foot tall earthen mound that runs for many miles and has become the social scene. Airboat swamp tours and restaurants dot both sides of the levee, with bayous on one side and the floodway and swamps on the other. I booked an Atchafalaya Basin Airboat Swamp Tour, joining a group of 7 others as we glided through 500-year old cypress trees. The swamp was alive with wildlife, and we watched herons, egrets, owls, nutria, and a dozen or so alligators go about their day.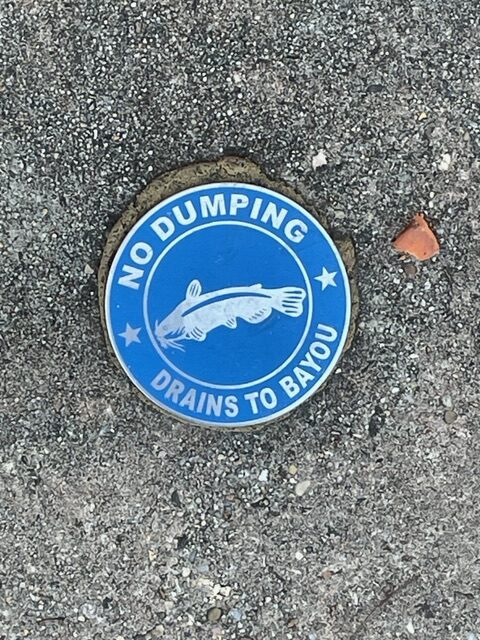 My Bayou Bike Ride took place on November 6, 2021, while much of the state was still recovering from Ida. The scheduled "sunrise" start of 7:33A was delayed for 30 minutes by a heavy fog. About 125 riders took off, covering anywhere from 15-100 miles on a variety of routes. The 100- mile route followed Bayou Teche north from Breaux Bridge, looped through St. Landry Parish and returned south on the levee. Along the way, four rest stops refueled riders with Gatorade (naturally), bananas and gouda-and-pimento sandwiches. The ride began and ended at Tante Marie, a Cajun restaurant that welcomed riders home with gumbo, jambalaya and local beer from Bayou Teche Brewery. Although the route was fairly flat, it was challenging due to the wind and the need to pedal constantly.
I spoke to Glenn Monte, a volunteer on the century ride and the owner of a construction business that builds metal houses, primarily in St. Martin Parish. He has more business than he can handle right now, thanks to Hurricane Ida, and estimated that his company was building 18-20 homes in the town of Houma alone. His metal homes can withstand winds of up to 200 mph, an appealing trait in a battered state. I asked him about the resilience of the communities. How many times can someone rebuild, after all? He replied that the area "is simply home" to many people, and moving elsewhere is a hard concept to grasp. Having lived in LA for 55 years himself, Glenn has seen coastal degradation of his favorite hunting and fishing spots. The environmental crisis spawned a new word in the early 2000's. "Solastalgia" is a term formed by the combination of the Latin words sōlācium (comfort) and the Greek root -algia (pain, suffering, grief). It describes a form of emotional or existential distress caused by environmental change, such as living through a storm that devastates one's home or community. The feeling of safety that someone once had in that home is gone forever.
One of the first examples of "climate refugees" in the US is found in Louisiana, where a relocation program is underway. Isle de Jean Charles is a narrow island in Terrebonne Parish that is home to indigenous tribes (the Bilox, Chitimacha and Choctaw). The island once encompassed 22,000 acres, but erosion and subsidence have slashed that to just 320 acres. The road to the mainland- Island Road, built in 1953- is often impassable due to storm surge, sea level rise, tides and high winds.
In 2016, Louisiana was given a $48.3 million dollar Community Development Block Grant to work with Isle de Jean Charles residents to retreat and resettle into a safer community about 40 miles north. Plans call for all homes to be built 3 feet above the 500-year flood plain and the first residents are scheduled to move in by the end of 2021.
Closer to home, Tangier Island, a small Virginia fishing town that 400 people call home, is sinking quickly and predicted to be uninhabitable wetlands by 2051. To relocate the townspeople to the mainland is pegged at $150 million; to bulk up the island and protect its shoreline would cost $350 million. It is a victim of both sea level rise and ground subsidence and over 67% of its land mass has disappeared since 1850.
My bike rides have revealed climate secrets over the years, showing how wind has carved mesas and buttes in Albuquerque, New Mexico and flowing water has created canyons in Moab, Utah. In Louisiana, I learned that the dual destructive forces of climate change and humans are strong enough to drive long-standing communities to safer ground. And I don't see a finish line in sight.
REFERENCES
Federal Emergency Management Agency (FEMA). (October 19, 2021). Areas of assistance, FEMA map. dec_4611.pdf (fema.gov).
Grist. (November 10, 2021). What a tiny island in the Chesapeake Bay teaches us about sea-level rise. What the tiny Tangier Island teaches us about sea level rise | Grist.
Louisiana Government. (2021). Isle de Jean Charles Resettlement. Isle De Jean Charles Resettlement Project | IsleDeJeanCharles.la.gov.
Planetizen. (September 15, 2020). 1.2 million climate refugees and counting in the United States. 1.2 Million Climate Refugees and Counting in the United States | Planetizen News.
Reference*. (2021). Why did the Acadians come to Louisiana? Why Did the Acadians Come to Louisiana? (reference.com).
Shaw, A., Lustgarden, A. and Goldsmith, J. (September 15, 2020). ProPublica. New climate maps show a transformed United States. New Climate Maps Show a Transformed United States | ProPublica.
US Army Corp of Engineers. (n.d.). The Atchafalaya Basin Project. Atch Bro1.qxd (army.mil).
US Energy Information Administration. (October 21, 2021). Louisiana State Energy Profile. Louisiana Profile (eia.gov).