Virginia Passes the Clean Economy Act

March 2020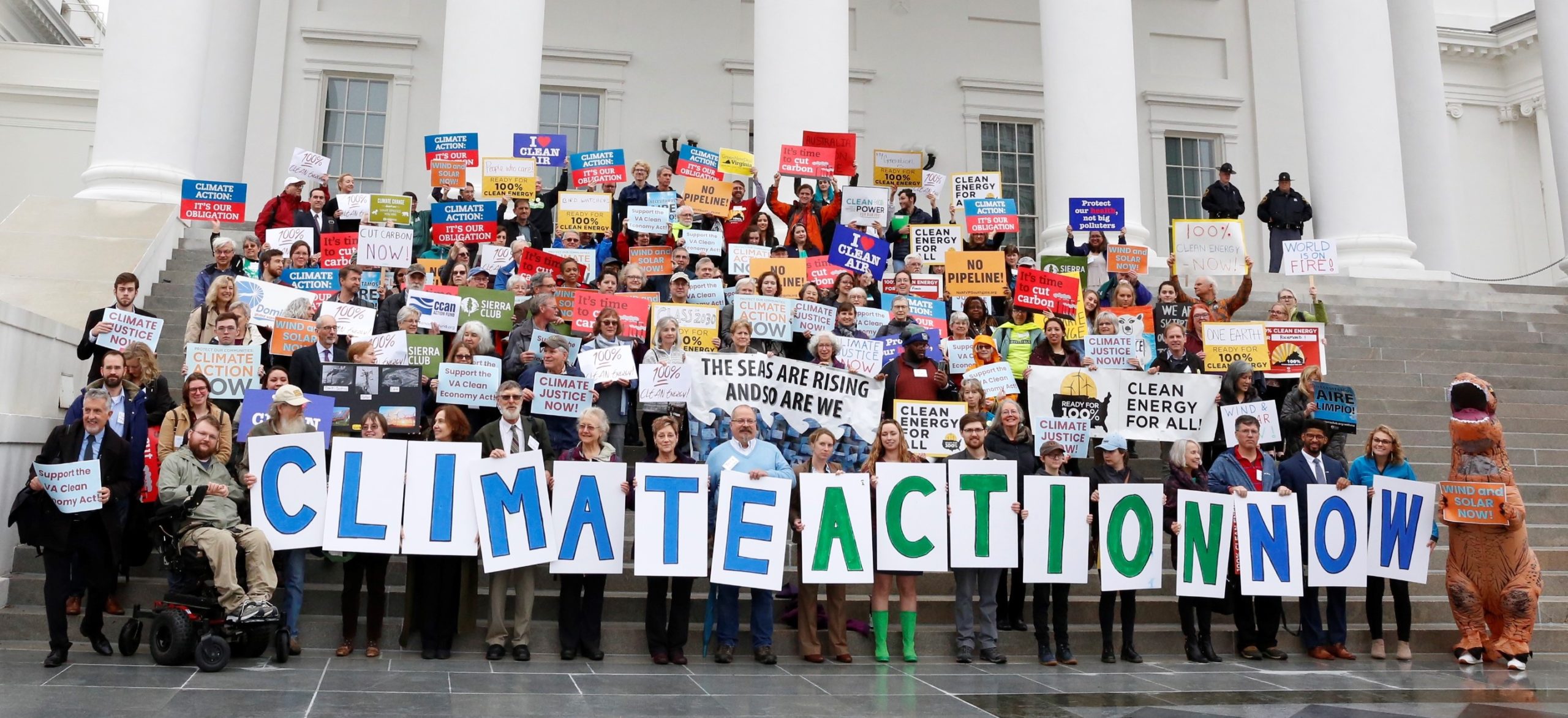 On March 12, 2020, the Virginia General Assembly PASSED the Virginia Clean Economy Act! This historic bill reverses decades of bad energy policy in Virginia. It mandates the shutdown of most of the state's coal plants by 2030 and all the state's fossil fuel plants for electricity – including gas plants — by 2045. It opens the gate to the biggest offshore wind farms in America and turbocharges the spread of solar rooftops and solar farms. It does this while creating real safeguards against Dominion Energy for ratepayers – especially for low-income families – and by mandating the use of LESS electricity statewide in the future.
The VCEA was supported by the biggest clean energy coalition ever assembled not just in Virginia but perhaps in the nation. The bill was supported by many environmental partners, including the Virginia League of Conservation Voters, the Virginia Chapter of the Sierra Club, the Southern Environmental Law Center, Audubon Society, CERES, and more; scores of clean energy companies; and constant involvement of literally dozens of climate-committed legislators. Passage of this historic bill brings Virginia from the back of the pack to the forefront of climate leadership in the nation. Read more here.
Virginia Bans Offshore Drilling

February 2020

The 2010 BP oil disaster gave us a stark reminder of the dangers of offshore oil drilling. America watched helplessly as millions of barrels of oil gushed into the Gulf of Mexico for months, costing millions of dollars in environmental and health damages, and taking the lives of 11 workers who died in the oil rig explosion. 
Over the years, CCAN has joined with many other organizations to build a groundswell of opposition to offshore drilling in the Atlantic. More than 140 East Coast communities, including Wilmington, Virginia Beach, Charleston, and Savannah, and thousands of businesses, trade groups, and tourism associations have passed resolutions opposing Atlantic drilling and seismic testing.
All this led to the Virginia General Assembly passing HB 706, a bill that blocks future oil and gas development off the state's coastline! This was a great win for our coast and our climate. Read more.
Virginia Joins the Regional Greenhouse Gas Initiative

February 2020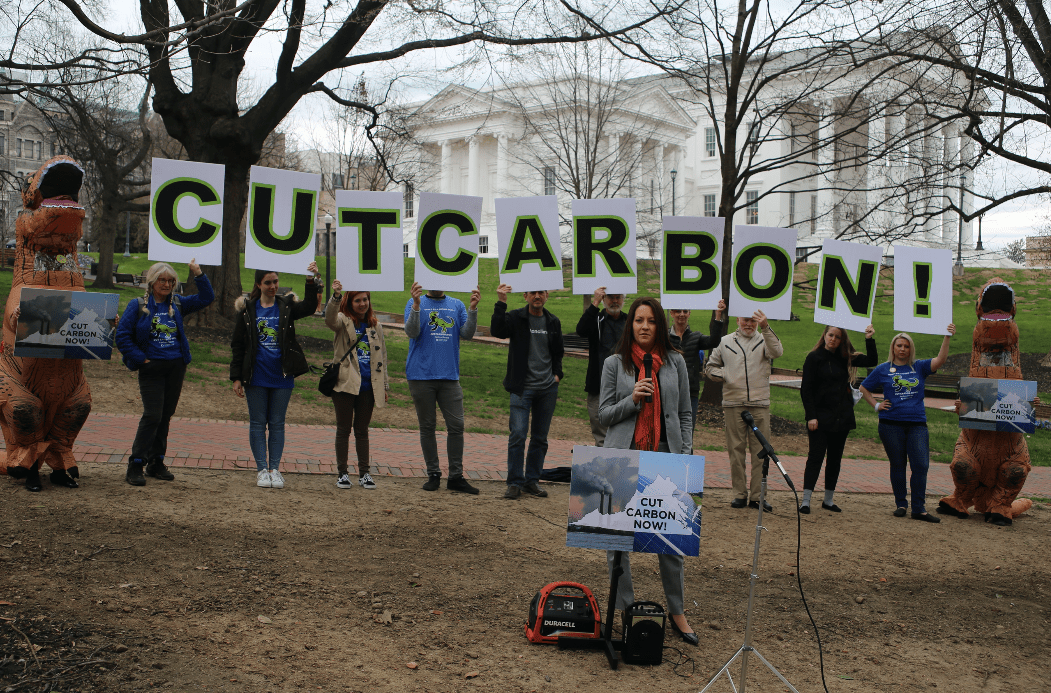 After six years of fighting for Virginia to join the Regional Greenhouse Gas Iniative, on February 2020, the Virginia General Assembly passed the Clean Energy and Community Flood Preparedness Act! This bill will formally join Virginia to RGGI, a carbon trading program comprised of nine East Coast states that is designed to cut carbon emissions by decreasing amounts in a way that keeps costs low. In short, Virginia's fossil fuel plants will have to pay for their pollution as they reduce overall emissions. As a result, public health problems like asthma and acute bronchitis caused by fossil fuels will decline. 
The Clean Energy and Community Flood Preparedness Act will require the revenue from this program — upwards of $1 billion — to fund flooding adaptation and energy efficiency measures. It's increasingly important protect our coastal and inland communities from flooding, which will only get worse as sea levels rise and extreme weather worsens with global warming. And the efficiency solutions will keep electricity bills low for everyone as we transition to a clean energy economy. These funds will provide safer communities and lower energy bills for ratepayers across Virginia. Read more here.
Maryland Passes the Clean Energy Jobs Act

April 2019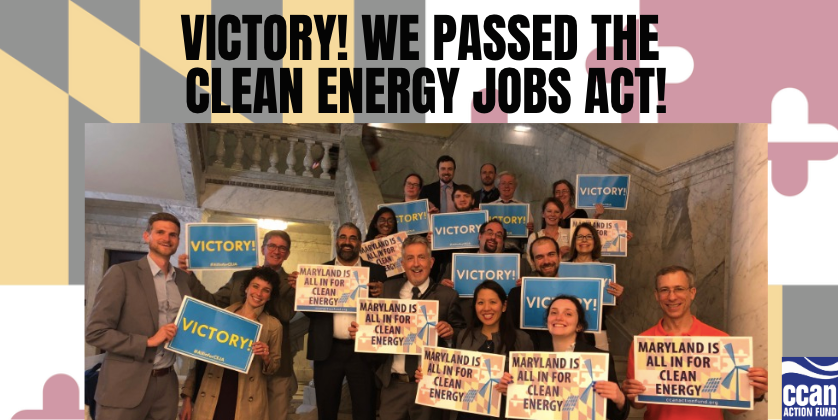 On April 8, 2019, in a watershed victory for clean energy and climate policy in Maryland, the General Assembly gave final approval to the Clean Energy Jobs Act. Both House and Senate chambers provided veto-proof margins: 95-40 in favor in the House and 31-15 in the Senate. Governor Hogan announced that he would allow the bill to become law on May 22.
The legislation will transform the way electricity is used in the state, making roof-top solar power and utility-scale solar common forms of generation in the coming years. It will also further kickstart the state's offshore wind industry, with incentives for 1200 megawatts of ocean-based power. The bill increases the state's renewable electricity standard to 50% of the total grid by 2030 and requires the state to examine pathways for achieving 100% clean power by 2040.
A downside of the bill is that legislators did not succeed in closing a controversial loophole that counts waste incineration as renewable power, allowing the polluting technology to receive the same incentive as clean wind and solar technologies. For the second year in a row the Maryland Senate passed a bill to remove the clean energy subsidy for burning trash; and, for the second year in a row, the House Economic Matters Committee did not move the policy change forward.
On the whole, this bill is an overwhelming win, and now makes Maryland a true national leader in the fight against climate change and in favor of clean energy. Read more here.
DC Passes Strongest Climate Policy in the Country

December 2018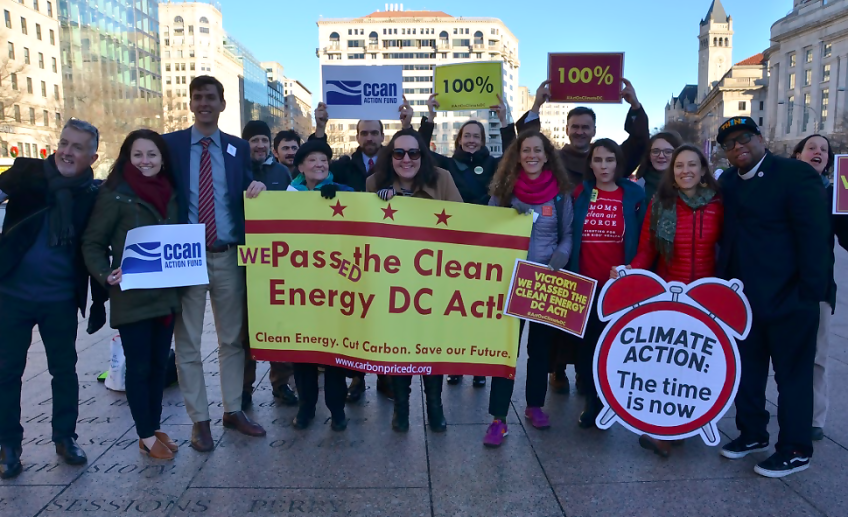 In December 2018, the DC Council passed the "Clean Energy DC Omnibus Act of 2018." The bill mandates that 100 percent of the city's electricity come from clean renewable power by the year 2032. It also creates enormous incentives for electric cars, sets groundbreaking efficiency standards for existing buildings, and expands a pollution fee on electricity, natural gas and home-heating oil. It then invests that carbon revenue in a special "Green Bank" for clean energy loans and efficiency and solar programs for low and moderate income residents.
This represents the strongest legislative mandate of its kind of any state in America. All told, the Clean Energy DC Act will reduce climate pollution in the District by a whopping 45%, and puts the District on track to meet our commitments under the Paris Climate Accord. And here's the best part: the White House and Congress will be lit with renewable energy, whether they want it or not.
This bill was the result of a years-long campaign, coordinated by CCAN, involving a coalition more than 100 local businesses and organizations. Camila Thorndike, director of CCAN's DC team, offered reflections on what it took to pass the strongest climate law in the country. Read more here.
Baltimore Passes Crude Oil Terminal Prohibition

March 2018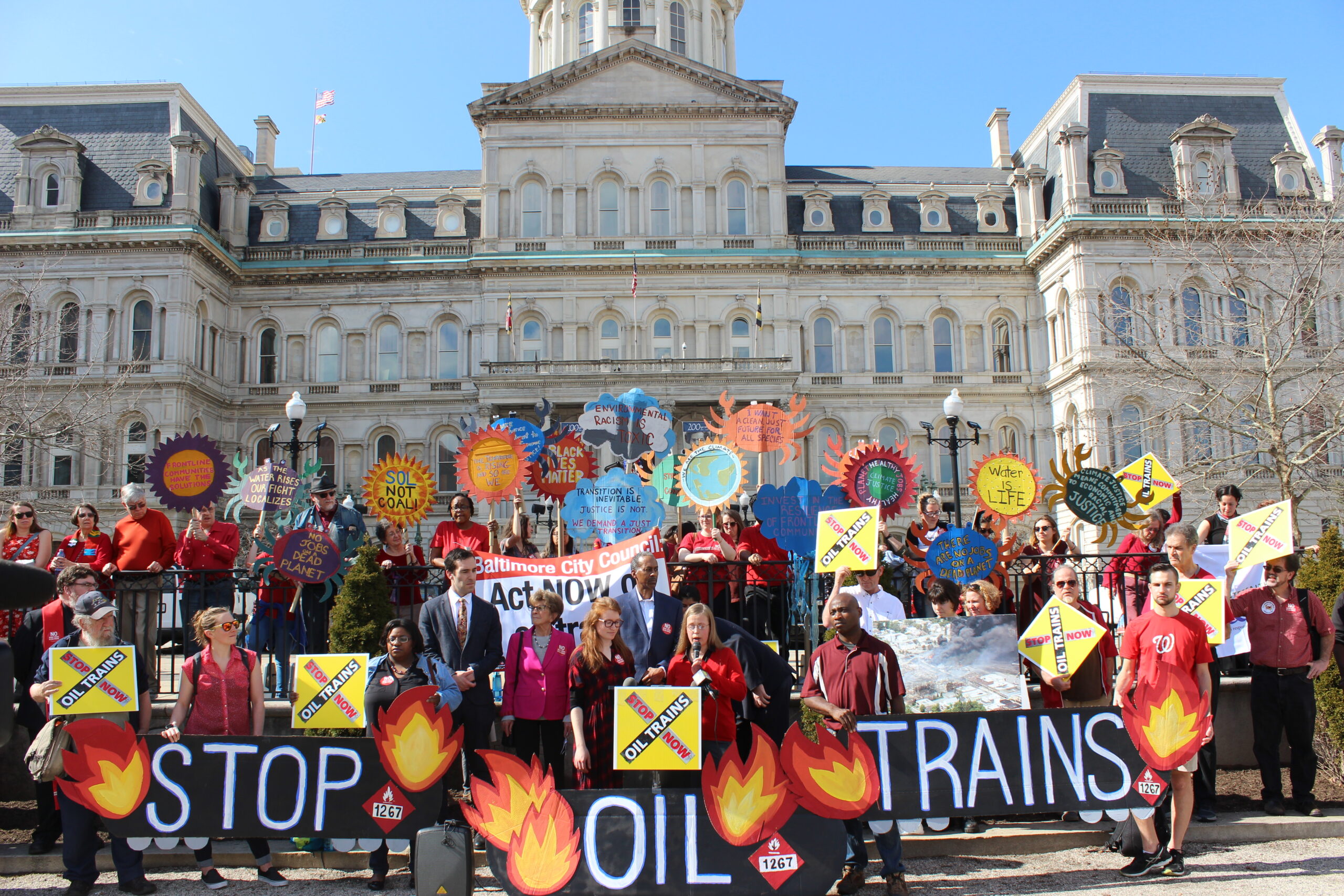 In March 2018, Baltimore Mayor Catherine Pugh signed the Crude Oil Terminal Prohibition into law. The law bans the construction of new crude terminals, helping to prevent a surge in the transport of volatile crude oil trains through the city. The law is the first of its kind on the East Coast and follows examples set by Portland, Oregon and Vancouver, Washington in 2016.
With this victory, residents and advocates will no longer have to worry about a new crude oil terminal being proposed in the city. Over three years after launching a fight against a Texas oil company's proposal for a new crude oil terminal in South Baltimore, a strong coalition of residents, advocates, and community leaders achieved a major victory for public health and safety, air and water quality, and the climate with the passage of the Crude Oil Terminal Prohibition.
At a campaign celebration, the bill's lead sponsor, Councilwoman Mary Pat Clarke, emphasized the importance of the extensive public comments and testimony submitted in support of the bill. And a staffer with the mayor's office specifically noted all of the phone calls and comments their office received as a reason for the mayor's support. All of this goes to show: organizing works!
Regional Greenhouse Gas Initiative Strengthens Carbon Pollution Standards
August 2017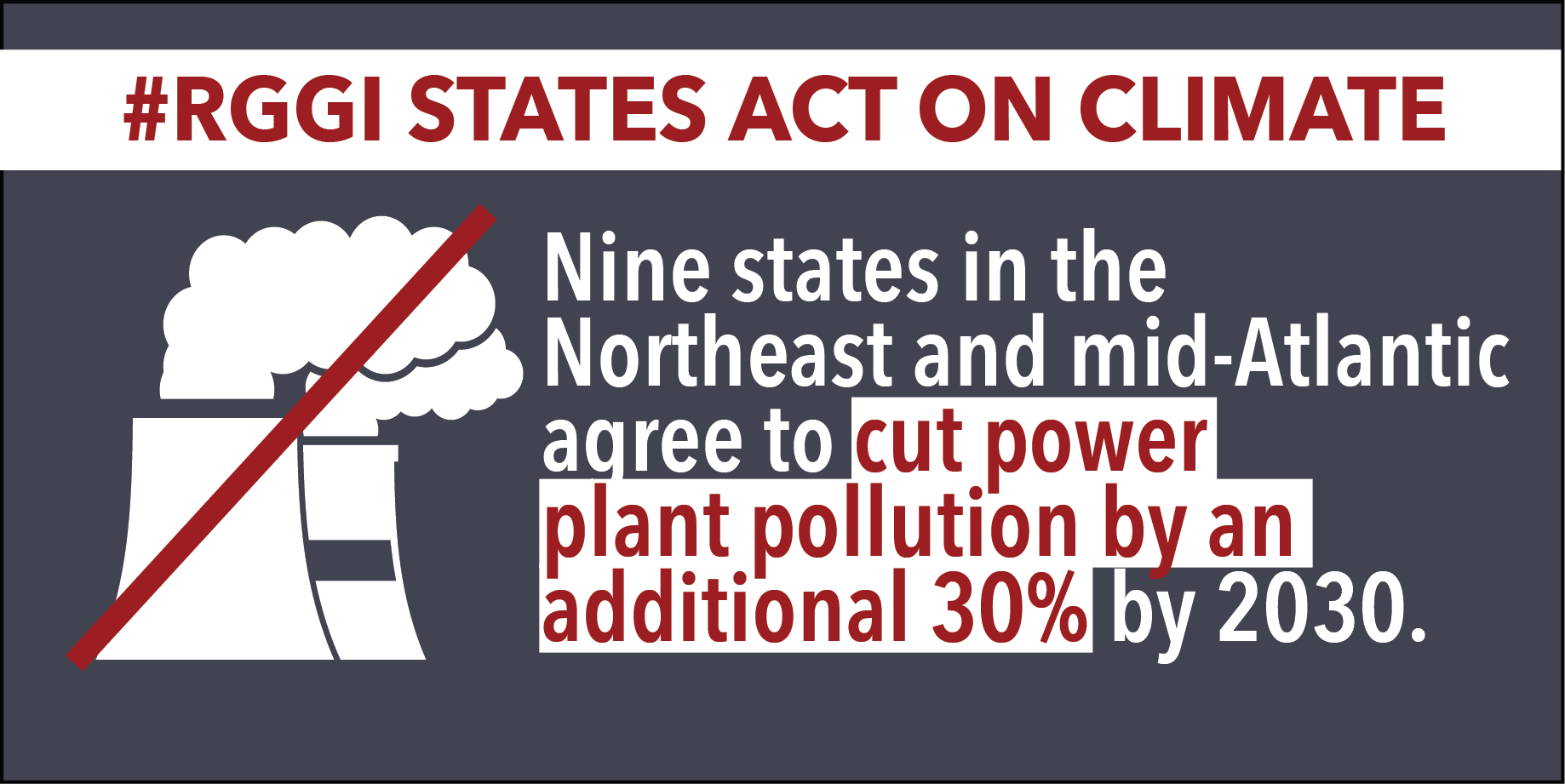 In August 2017, the Regional Greenhouse Gas Initiative (RGGI) unveiled a plan to strengthen its program to reduce carbon emissions. The program will reduce greenhouse gas emissions from power plants by 30 percent between 2020 and 2030. Maryland's participation in RGGI is already expected to reduce CO2 emissions from the State's electricity generators by roughly 10 percent from current levels by 2019.
RGGI, a cooperative effort by nine Northeast and Mid-Atlantic states to reduce carbon dioxide (CO2) emissions from electricity generating plants, has been an unquestioned success for Maryland and neighboring states since it began in 2009.
This victory also sets a strong bar for Virginia as the state considers joining RGGI as a path to meet Virginia Governor Terry McAuliffe's Executive Directive 11 to reduce carbon emissions.
Nation's largest offshore wind farms approved for Maryland
May 2017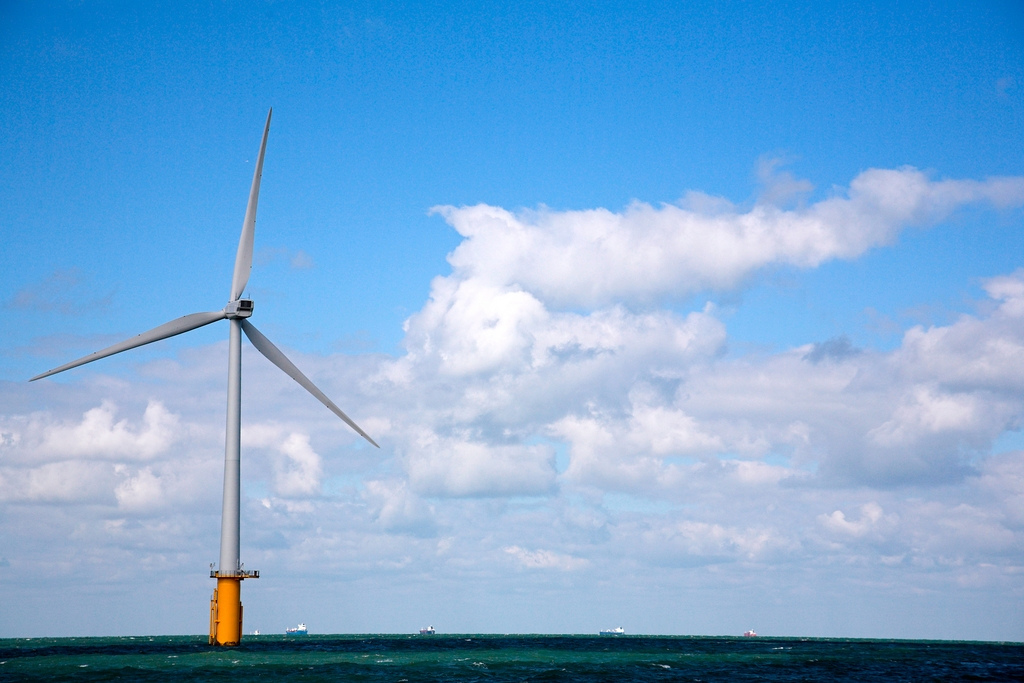 In May 2017, the Maryland Public Service Commission (PSC) approved applications for two offshore wind farms, paving the path for Maryland to become a national leader in offshore wind energy. The PSC's approval will bring the nation's largest offshore wind projects to the coasts of Maryland, creating almost 9,700 new jobs, generating 368 megawatts of clean power and preventing hundreds of thousands of pounds of carbon dioxide from entering into the atmosphere.
This big step forward for clean energy in Maryland was propelled by the dozens of grassroots activists who attended project hearings in the spring of 2017 in addition to the immense grassroots support for the passage of the 2013 Maryland Offshore Wind Energy Act.
Maryland Passes Permanent, Statewide Ban on Fracking, with Nationwide Implications
March 2017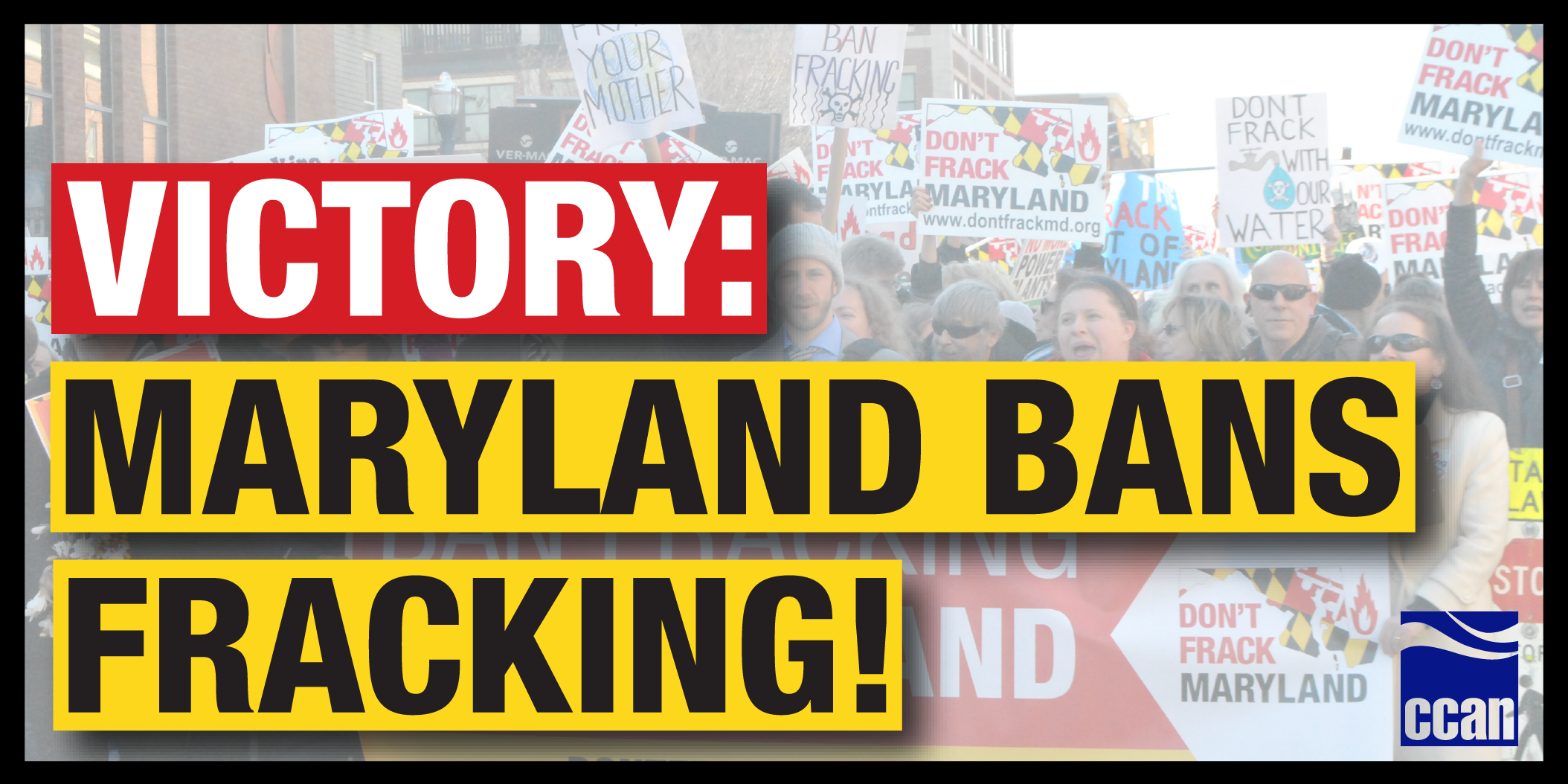 In March 2017, the Maryland General Assembly passed House Bill 1325, which will place a permanent ban on fracking in Maryland. The House of Delegates and the Senate both passed the bill with a bipartisan, veto-proof majority, sending it to be signed by Maryland Republican Governor Larry Hogan.
This move follows six years of organizing against the drilling practice from a grassroots movement that included farmers, doctors, students, faith leaders, environmental groups, and others. In the final year of the campaign 16 municipalities across the state passed bans, resolutions or statements of support in favor of a ban on this harmful drilling practice. During the legislative session over 600 grassroots activists lobbied in favor of a ban on hydraulic fracturing and over a 1000 people took to the streets in Annapolis for a march and rally. In the last days of the campaign, a group of 13 faith leaders and western Maryland residents were peacefully arrested in support of the fracking ban bill while it was being debated in the Senate, and one day later, Gov. Hogan reversed course to announce his support for a fracking ban.
Maryland will now become the first state in America with proven gas reserves to ban fracking by legislative action. It sets a nationally significant precedent as other states grapple with the dangerous drilling method. From Virginia (where leaders have imposed or proposed local bans at the county and municipal level) to the state of Florida (which is looking to follow Maryland's statewide ban), the "keep-it-in-the-ground" movement is gaining new bipartisan steam.
MD Enacts "Clean Energy Jobs Act" by Overriding Hogan's Veto
February 2017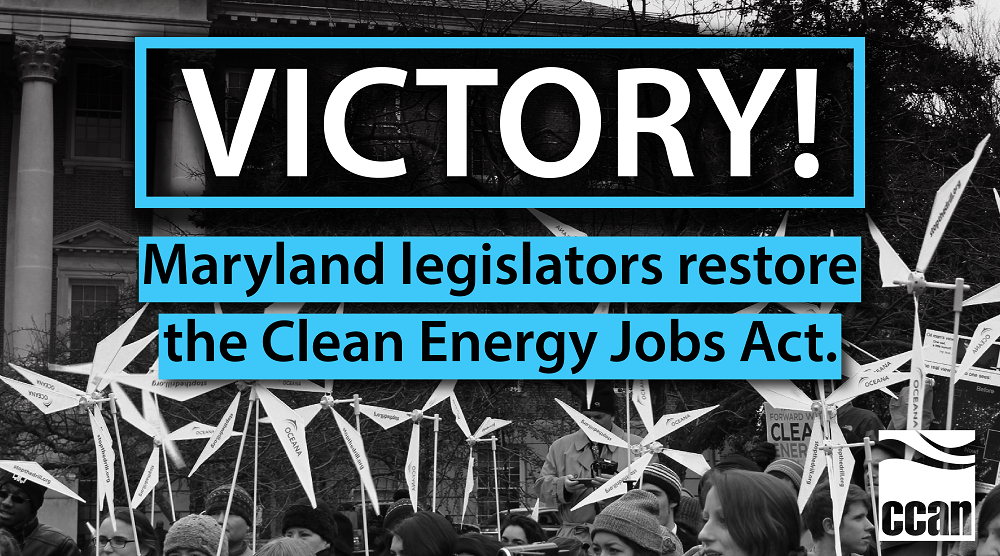 In an historic move, the Maryland General Assembly overrode Governor Larry Hogan's veto of the Clean Energy Jobs Act (SB 921/HB 1106), bringing into law a 25% clean electricity target, which the state must meet by 2020. The overwhelming support to restore this leading piece of legislation comes on the heels of nearly four years of persistent grassroots support for more clean energy, improved public health, and progressive climate action.
The Clean Energy Jobs Act will create nearly 1,000 new high-paying jobs annually through 2020 by creating incentives for roughly 1,300 megawatts of wind and solar. That's enough clean energy to power 279,000 homes annually. The measure will also reduce carbon emissions equivalent to taking 563,000 passenger vehicles off the road each year, which will mitigate the impacts of climate change while preventing up to 600 asthma attacks each year.
DC Enacts 50% Clean Energy Standard
July 2016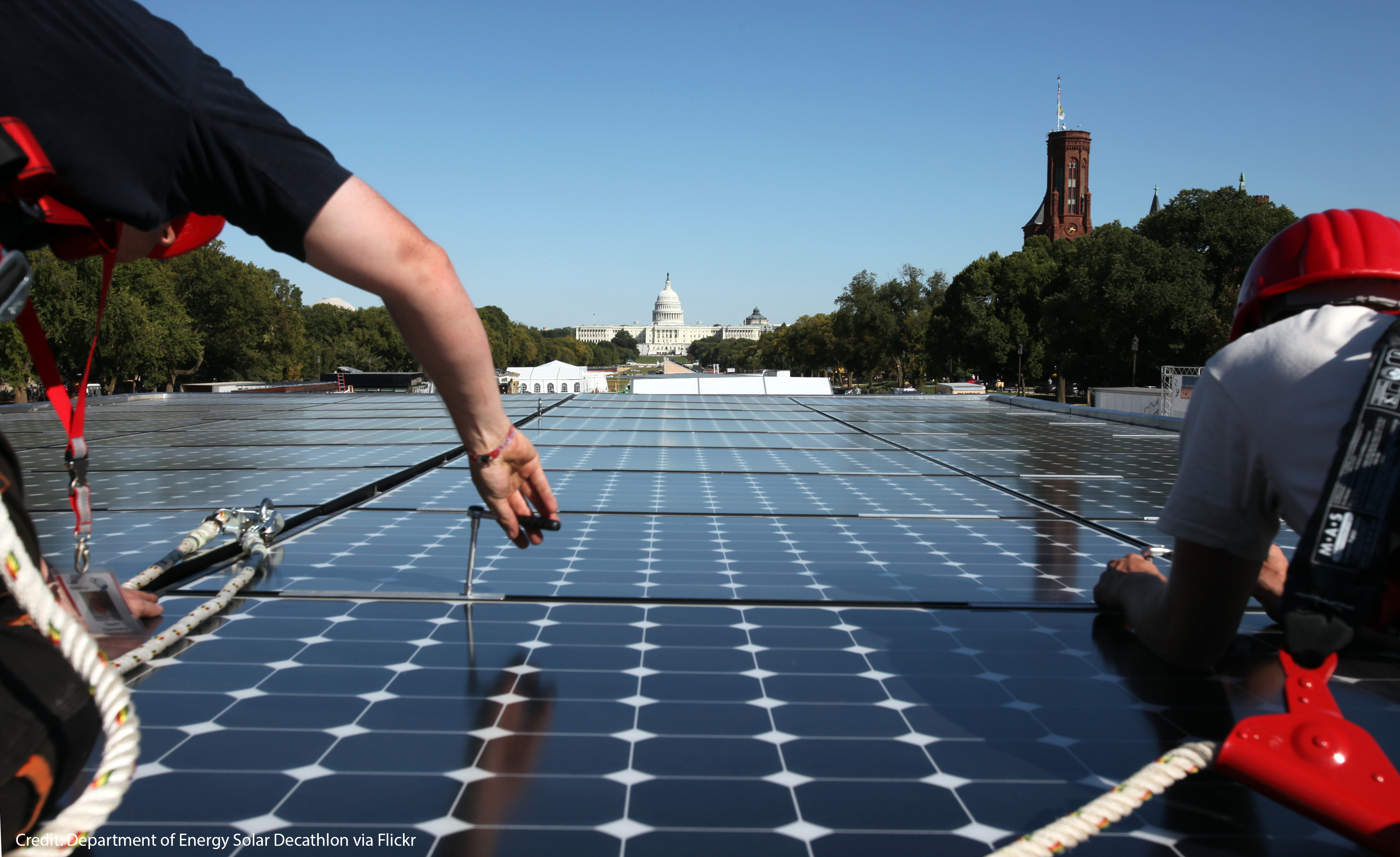 In June 2016, the District of Columbia Council unanimously approved the Renewable Portfolio Standard Expansion Amendment Act of 2016 (B21-650), which expanded D.C.'s clean energy target to 50 percent by 2032. The bill was signed into law by Mayor Bowser on July 25, 2016, setting in motion one of the top-five mandatory clean energy goals among U.S. states.
By creating incentives for 1,500 Megawatts of new wind and solar power, the bill will quadruple jobs in D.C.'s solar industry, which currently employs 1,000 people. The legislation will also reduce climate pollution at a rate equal to taking 500,000 cars off the road per year while also establishing a "Solar for All" program to cut the electric bills of 100,000 low-income District households in half by 2032.
Targa Resources Nixes Plans for Crude Oil Terminal in Baltimore
July 2016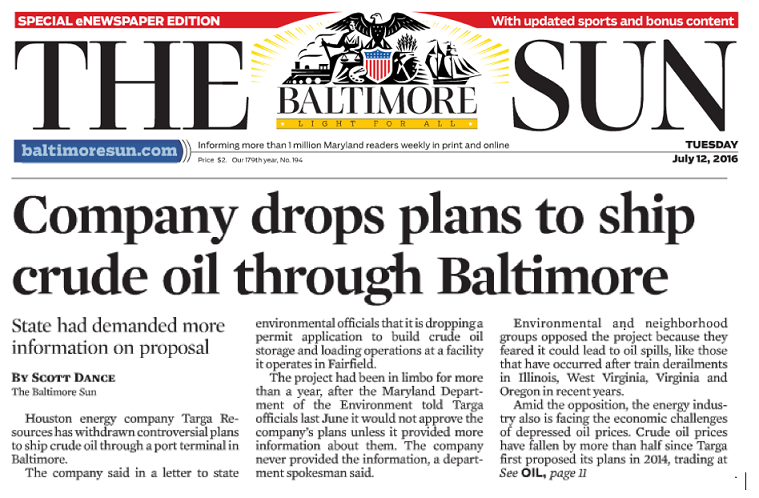 As a result of two years of legal and citizen pressure, Houston-based Targa Resources withdrew plans for a new crude oil shipping terminal in South Baltimore in July of 2016. Targa's plan involved shipping over 383 million gallons of crude oil by rail through the city and the Chesapeake Bay per year. CCAN worked with the Environmental Integrity Project to submit detailed legal comments to the Maryland Department of the Environment (MDE) challenging Targa's permit application in 2014, in addition to working with community members to generate hundreds of written comments to MDE. MDE put Targa's permit on hold, requesting more information about air pollution impacts, in June 2015, leading the company to withdraw its application a year later.
This victory will prevent an immediate increase in dangerous oil trains rolling through Baltimore neighborhoods, where 165,000 people live in the potential 1-mile "blast zone" of a derailment.
Prince George's County Bans Fracking
April 2016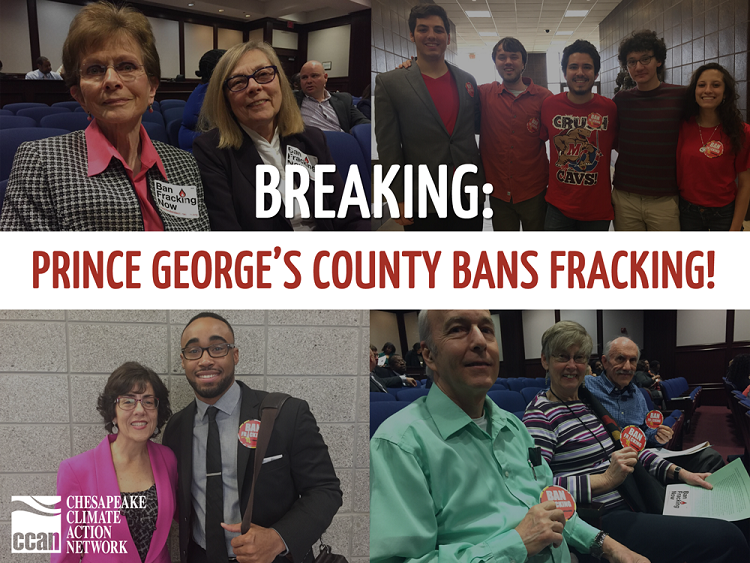 On April 12th, 2016, the Prince George's County Council voted unanimously to ban hydraulic fracking, better known as fracking, within the county. The measure, which amends county zoning laws to prohibit fracking, was introduced by Councilwoman Mary Lehman and succeeded with a unanimous 8-0 vote.
Prince George's County was the first in Maryland to ban fracking following the Maryland General Assembly's passage of a two-year moratorium on the practice in 2015. As a result of this victory, which came after months of work by citizens supported by CCAN and allied groups, fracking is now banned in Maryland's two most populous counties. Montgomery County approved a similar zoning change in 2014.Prince George's County sits atop the Taylorsville Basin, which is estimated to contain more than 500 billion cubic feet of gas. For more information, click here.
Maryland's Greenhouse Gas Reduction Act Renewed
April 2016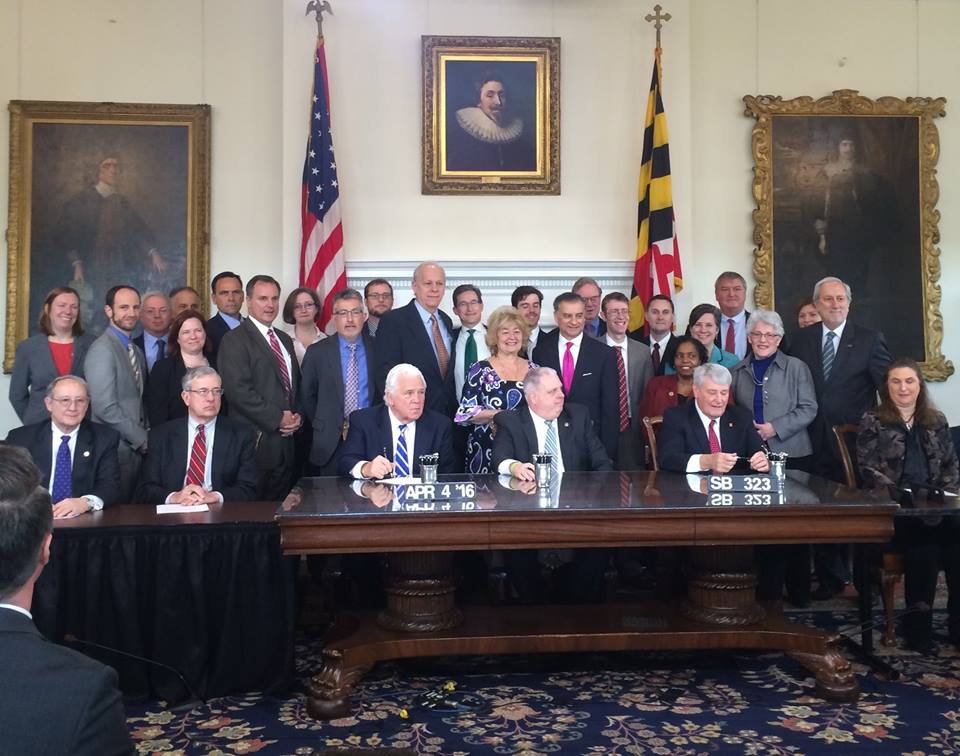 On April 4th, Governor Larry Hogan signed the Greenhouse Gas Reduction Act of 2016 (SB 323) into law. The bill was introduced by Senator Paul Pinsky and Delegate Kumar Barve, and requires Maryland to slash emissions economy-wide by 40% below 2006 levels by 2030. The bill deepens the state's existing emissions reduction mandate first passed in 2009. The bill passed the House of Delegates by a vote of 100-37 and the Senate by a vote of 38-8, with bipartisan support in both chambers.
The state's existing law requires Maryland to reduce emissions by 25 percent below 2006 levels by the year 2020. According to a state study, Maryland's climate programs are on pace to generate between $2.5 billion and $3.5 billion in net economic benefits and to create and maintain between 26,000 and 33,000 new jobs.
Obama Administration Protects Atlantic Coast From Offshore Drilling
March 2016

Thanks to the thousands of people across the East Coast, the Obama administration released an updated draft five-year plan for oil and gas development in federal waters that would keep drilling off limits in the Atlantic, protecting coastal communities from Virginia to Georgia. This decision, a dramatic reversal from the administration's previous plan, responds to the widespread and vocal opposition of more than 110 East Coast communities, more than 700 state and local elected officials, more than 1,000 business interests, and thousands of citizens.
CCAN worked with Virginia's activists to submit hundreds of public comments to the Bureau of Ocean Energy Management and the Department of Interior, as well as urged our Virginia Senators to come out strong against offshore oil drilling. For more details click here.
President Obama Rejects the Keystone XL Pipeline
November 2015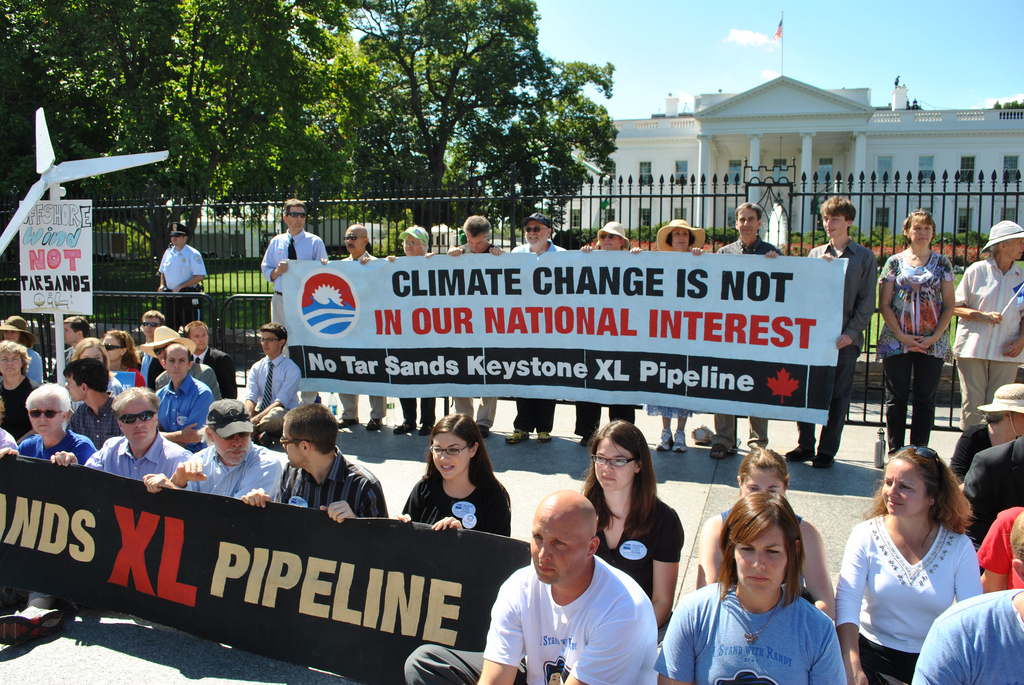 Keystone XL was a proposed tar sands pipeline that would connect Alberta, Canada with Gulf Coast refineries that would carry 800,000 barrels per day of tar sands oil across the United States to be refined, exported and burned. CCAN played a major role in organizing actions to stop this project, from massive marches, submitting comments, birddogging the President across the region, and getting arrested at the White House.
Keystone XL required a Presidential Permit to move forward, and on November 6, 2015, the Obama administration rejected the pipeline, stating that "The Keystone XL pipeline does not serve the national interests of the United States".
Fracking Moratorium in Maryland
May 2015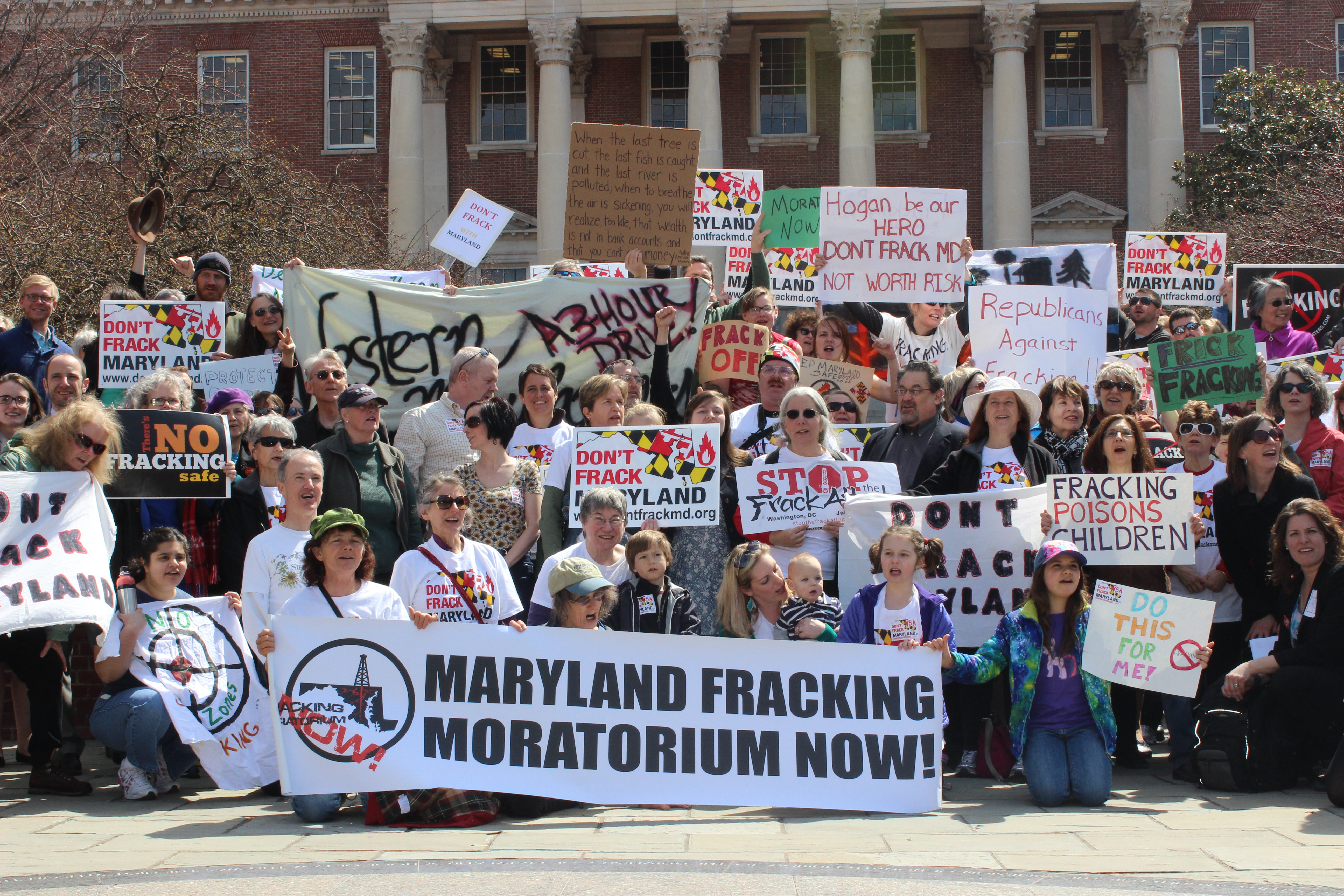 After years of statewide organizing, CCAN and our allies pushed Maryland's first legislative moratorium over the finish lines in 2015! The bill prohibits gas companies from fracking for natural gas in Maryland through at least October 1st, 2017 protecting our communities from this dangerous drilling practice. The bill passed the General Assembly with broad, bipartisan support and became law on May 29th after Governor Larry Hogan neither signed nor vetoed it. We now have 2.5 years to develop an even stronger grassroots movement to permanently ban fracking in the state of Maryland and keep this fossil fuel in the ground!
Solar Net Metering Bill Passes the Virginia Legislature
February 2015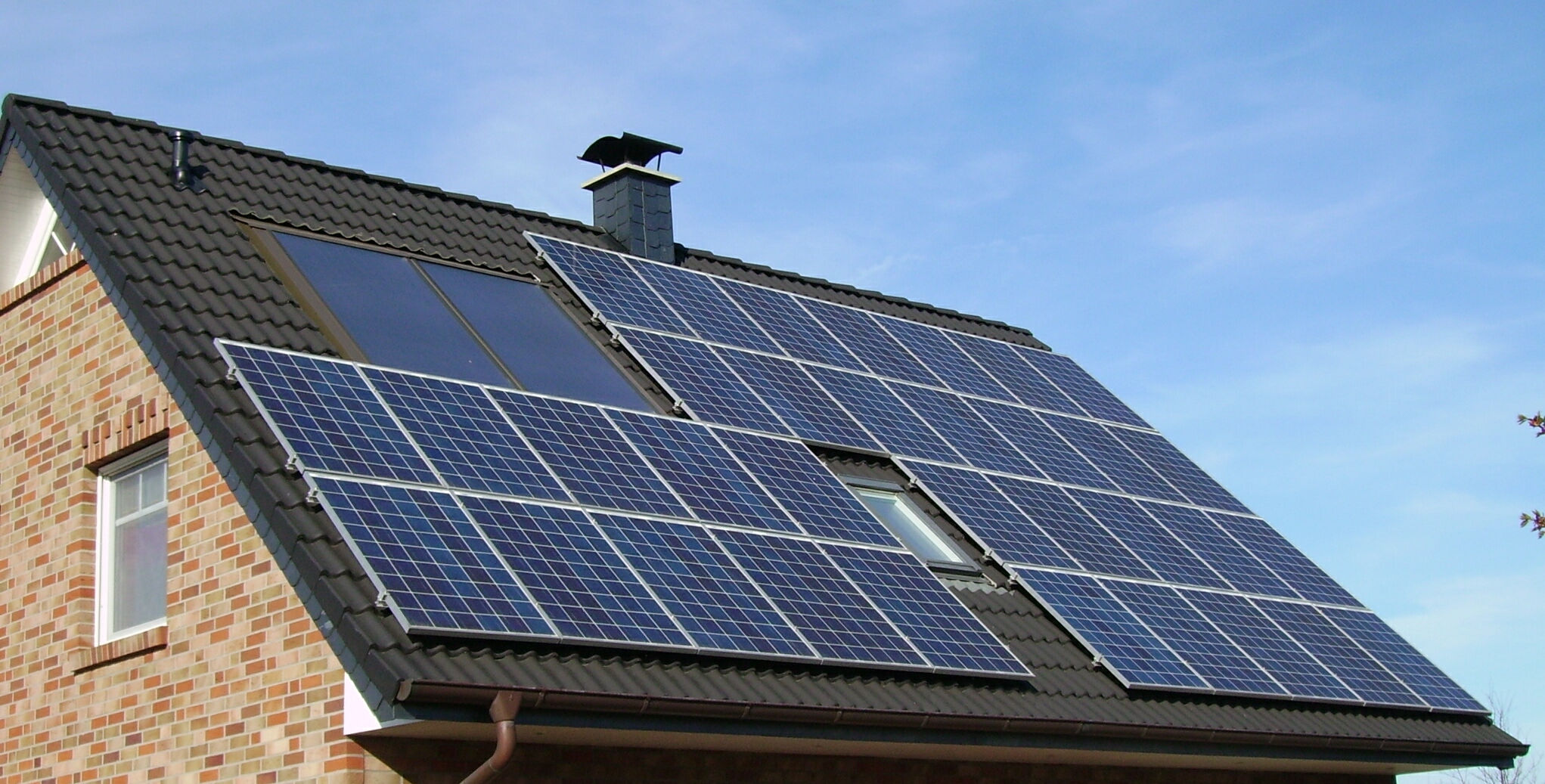 On February 23rd, the Virginia legislature passed HB1950 and SB1395, raising the non-residential net metering project cap from 500 kw to 1MW- a concrete step to grow Virginia's clean energy economy!
Here are the details of the bill:
Doubles Virginia's Cap to 1MW. The bill raised the non-residential project cap for solar net metering customers from 500 kilowatts to 1 megawatts.
Thanks to the bills sponsors, Senator Rosalyn Dance and Delegate Jennifer McClellan for leading the way and carrying this critical legislation. Virginia is now comparable in terms of its non-residential solar cap with neighboring North Carolina (also 1MW cap). This legislation means that businesses across the state can now increase their solar usage!
Another victory came from HB 2267, introduced by Del. Tim Hugo, that will establish a Solar Development Authority for Virginia. The authority will smooth the way for the solar industry to expand in Virginia. Most importantly, the authority is tasked to bring online at least 400 megawatts of solar by 2020 — enough to power at least 100,000 homes!
Major Loophole Closed in DC Clean Electricity Standard
December 2014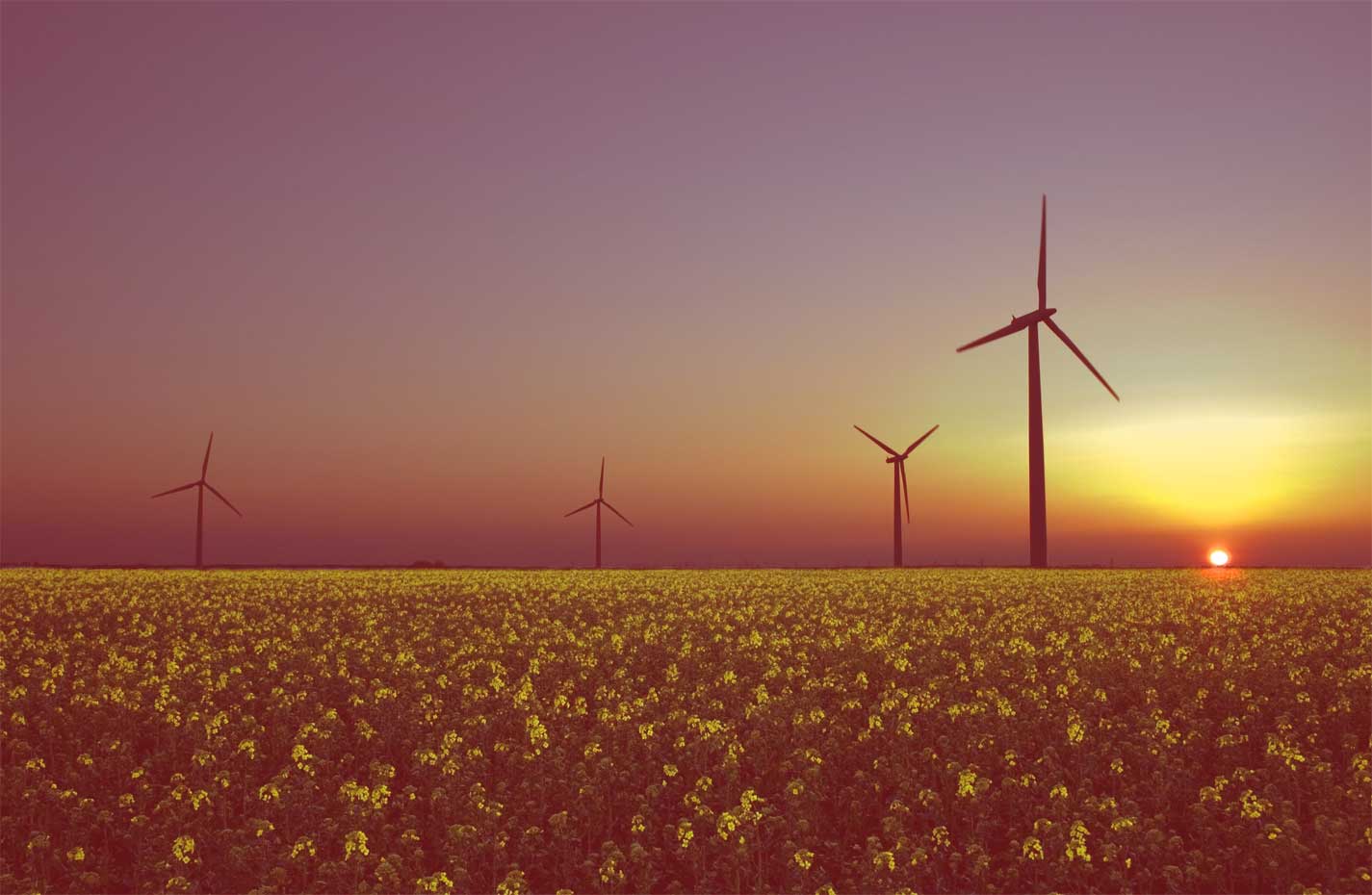 December 2014 marked the end of a nearly two-year campaign effort to dramatically increase the use of wind- and solar-powered electricity in the District by closing a major loophole in DC's most important clean energy law. Following a unanimous DC Council vote in December, Mayor Muriel Bowser signed the "Renewable Energy Portfolio Standard Amendment Act of 2014" into law on January 26th, 2015.
The law will make sure that D.C. ratepayers no longer subsidize the burning of dirty "black liquor" and inefficient wood waste – energy sources that pollute on par with coal – under D.C.'s Renewable Energy Portfolio Standard (RPS) law. As a result, we'll reduce carbon pollution by the equivalent of taking 142,000 cars off the road every year — and incentivize the equivalent of about four new utility-scale wind farms throughout our region!
Proposed Frederick, MD Incinerator Defeated
November 2014

Since 2010 CCAN has worked with the community in Frederick to fight the proposed waste-to-energy incinerator on the shores of the Monocacy River. In a 3-2 vote, Commissioners President Blaine Young and commissioners Kirby Delauter and David Gray voted to kill the $471 million incinerator project by canceling the contract and related permits. Read the latest news on the cancelled incinerator.

Virginia Hybrid Tax Repealed
February 2014

CCAN activists were instrumental in leading the grassroots backlash to the annual $64 tax on hybrid vehicles that passed the Virginia General Assembly in 2013. Hybrid car owners paraded around the capitol in Richmond in February 2013 and CCAN partnered with Sen. Adam Ebbin and Del. Scott Survell in delivering over 7,000 signatures urging then-Governor McDonnell to veto it. In 2014, the General Assembly repealed this unfair attack on Virginians trying to do their part for cleaner air and a stable climate with overwhelming bipartisan support.
EPA Agrees to Deadline for First-Ever US Coal Ash Regulations
January 2014
In the aftermath of the Kingston Fossil Plant coal fly ash slurry spill, the EPA proposed various regulatory options in May 2010 and held seven public hearings in August and September of that year. Environmental and public health groups, community organizations, Native American tribes and others generated more than 450,000 public comments on EPA's proposed regulation, calling for the strongest protections under the law. But since then, despite coal ash contamination at more than 200 sites nationwide, the EPA has failed to finalize the protections. In October, the U.S. District Court for the District of Columbia ruled that the EPA has a mandatory duty to review and revise its waste regulations under the Resource and Conservation Recovery Act. The EPA announced plans to finalize first-ever federal regulations for the disposal of coal ash by December 19, 2014.
Maryland Offshore Wind Energy Act
April 2013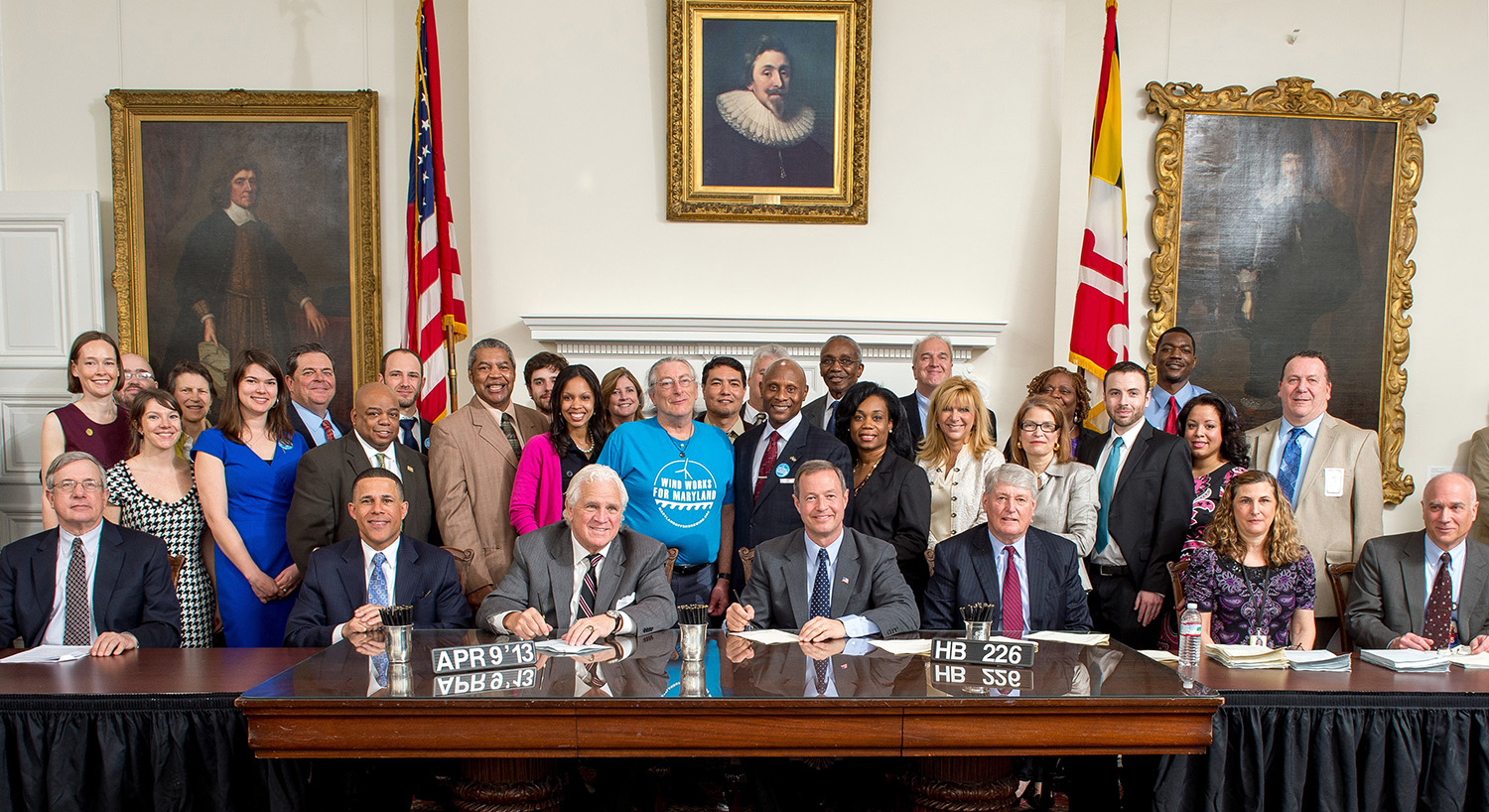 On September 23, 2010 at St. Paul's by-the-Sea Episcopal Church in Ocean City, Maryland, CCAN and other advocates held our first town hall in the campaign to bring offshore wind power to the state. Over two and a half years later, on April 9th, 2013, Maryland Governor Martin O'Malley signed Offshore Wind Energy Act of 2013 into law. This landmark legislation will put Maryland on the path to tapping our vast wind energy resource, by incentivizing more than 200 megawatts of wind power ten miles off the coast of Ocean City. This is just the first step toward a goal of over 1,000 megawatts of ocean-based wind development in coastal Maryland.
R. Paul Smith Coal-Fired Power Station shut-down
February 2012
CCAN and the Environmental Integrity Project celebrated a major legal victory to end dirty coal electricity in Maryland by threatening legal action against the R. Paul Smith Power Station for non-compliance with air emission standards. Subsequently, the company that owns the power plant decided to shut it down. This is a significant victory for the health of Maryland communities, the health of the Chesapeake Bay, and efforts to fight climate change in the mid-Atlantic region. This plant closure will reduce annual emissions of carbon dioxide by more than 200,000 tons annually, sulfur dioxide and nitrogen oxide emissions by at least 2,000 tons, and particulate matter by 120 tons.
Potomac River Coal-Fired Power Plant shut-down
August 2011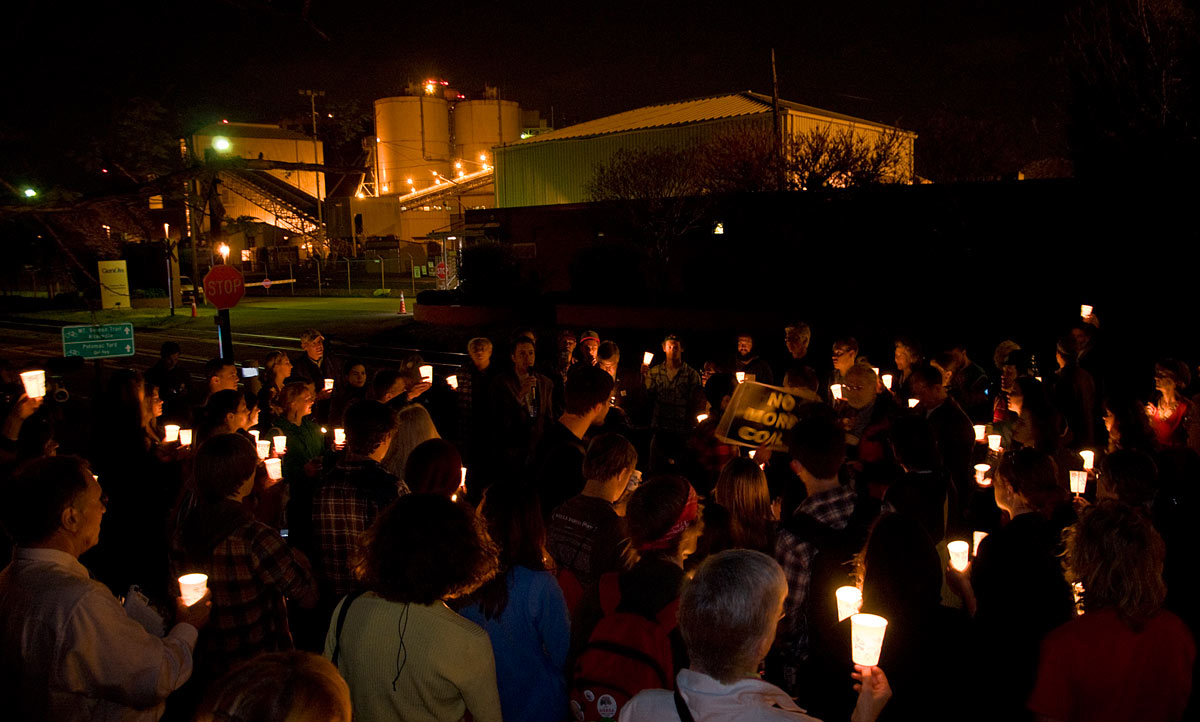 For 62 years, GenOn Energy's Potomac River Generating Station was burning coal in Alexandria, VA. On October 1, 2012, the plant ceased its operations. This will reduce the Washington, D.C. area's carbon emissions by the equivalent of taking 300,000 cars off the roads. CCAN, Interfaith Power and Light (MD.DC.NoVA), the Sierra Club, and Greenpeace stood united to shut this plant down.
1500 MW Surry County Coal Plant Indefinitely Delayed
September 2010
Old Dominion Electric Cooperative (ODEC) was considering spending $6 Billion to build a massive new coal-fired power plant just 32 miles from the Chesapeake Bay in Surry County, Virginia.
Maryland Greenhouse Gas Emissions Reduction Act (GGRA)
April 2009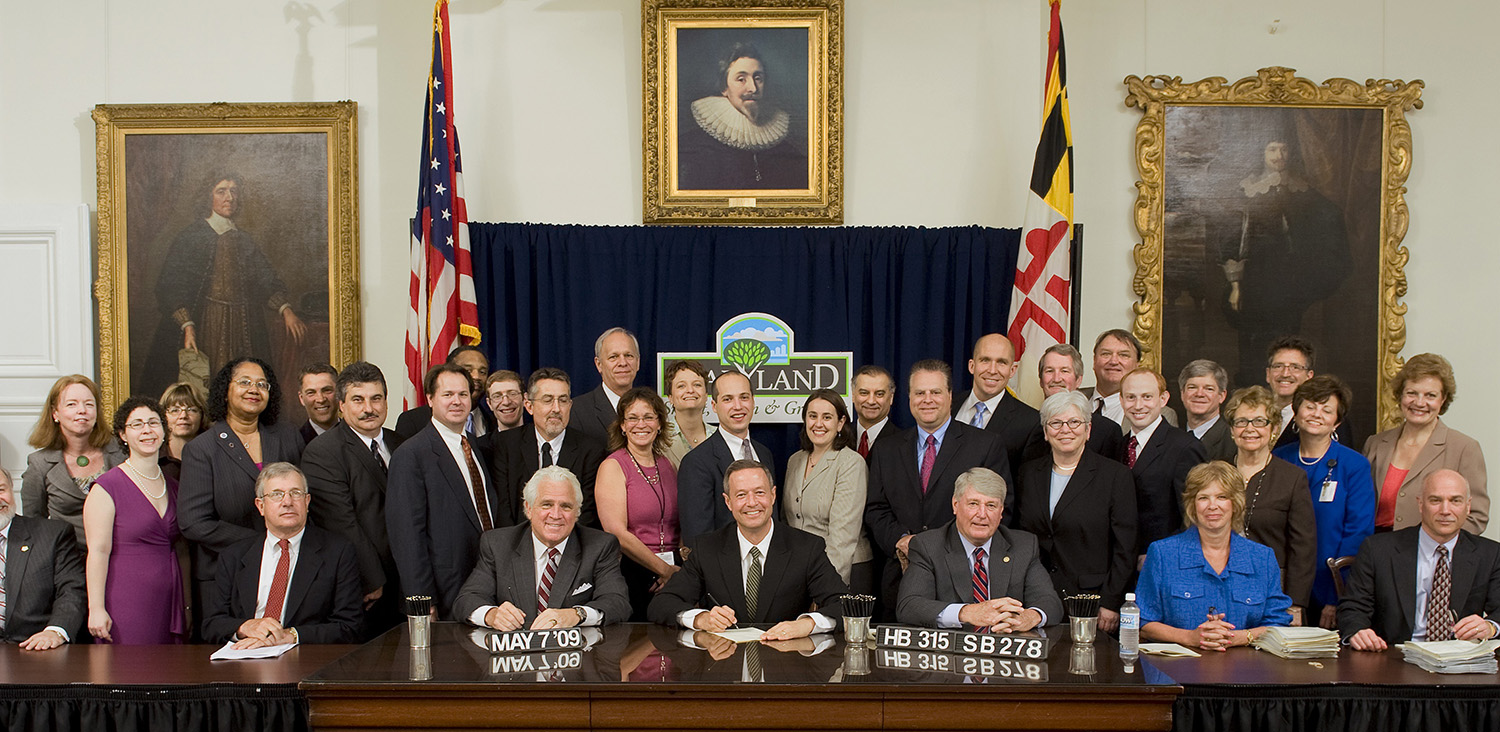 The passage of this law, which requires a 25 percent reduction in greenhouse gas (GHG) emissions below 2006 levels by 2020, makes Maryland one of five leadership states in the country implementing some form of state law that requires specific mandatory GHG emissions reductions. In an effort to ensure that this law is implemented as strongly as possible, CCAN continues working closely with the O'Malley administration make sure that GGRA meets its reduction goal and grows Maryland's green economy at the same time.
The EmPOWER Maryland Energy Efficiency Act
April 2008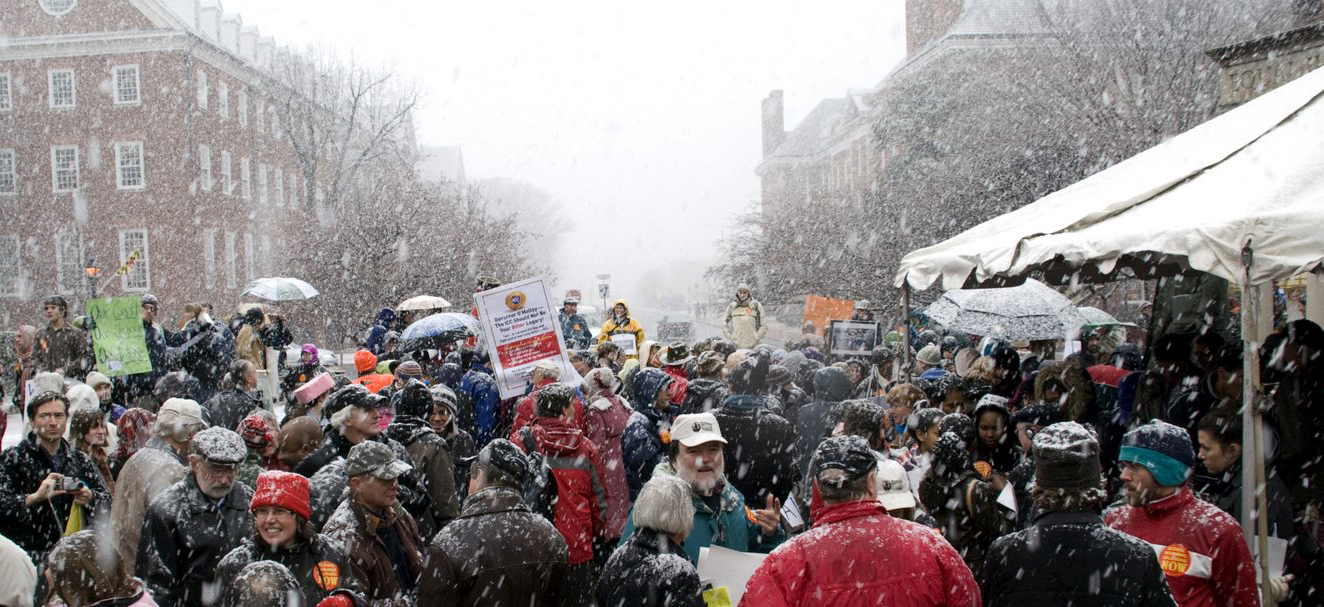 One of the most aggressive energy efficiency laws in the country, EmPOWER directs Maryland utilities to reduce per-capita electricity usage and peak demand by 15 percent below 2007 levels by 2015. CCAN supported this law when it was passed, and we continue to support strengthening and expanding this law to drive further efficiency gains by 2020.
Virginia Voluntary Renewable Energy Portfolio Goal
April 2007
Virginia's voluntary RPS was passed with the stated aim of getting 15 percent of Virginia's power from renewable sources like wind farms and solar arrays by 2025, by offering financial incentives to utilities. Although the law has not had its intended effect, and has instead sent ratepayer funds to out-of-state facilities that were in existence before the RPS was passed, CCAN continues to fight for a mandatory RPS that funds clean energy generation from within the Commonwealth.
DC Clean Cars Act
May 2007
The District joins 18 other states, including Maryland, in adopting California's stricter tailpipe emissions standards. The DC Clean Cars Act will regulate carbon dioxide emissions from all cars registered in the District beginning in 2011 and ensures that DC will greatly reduce its contribution to global warming.
Maryland Regional Greenhouse Gas Initiative (RGGI)
April 2007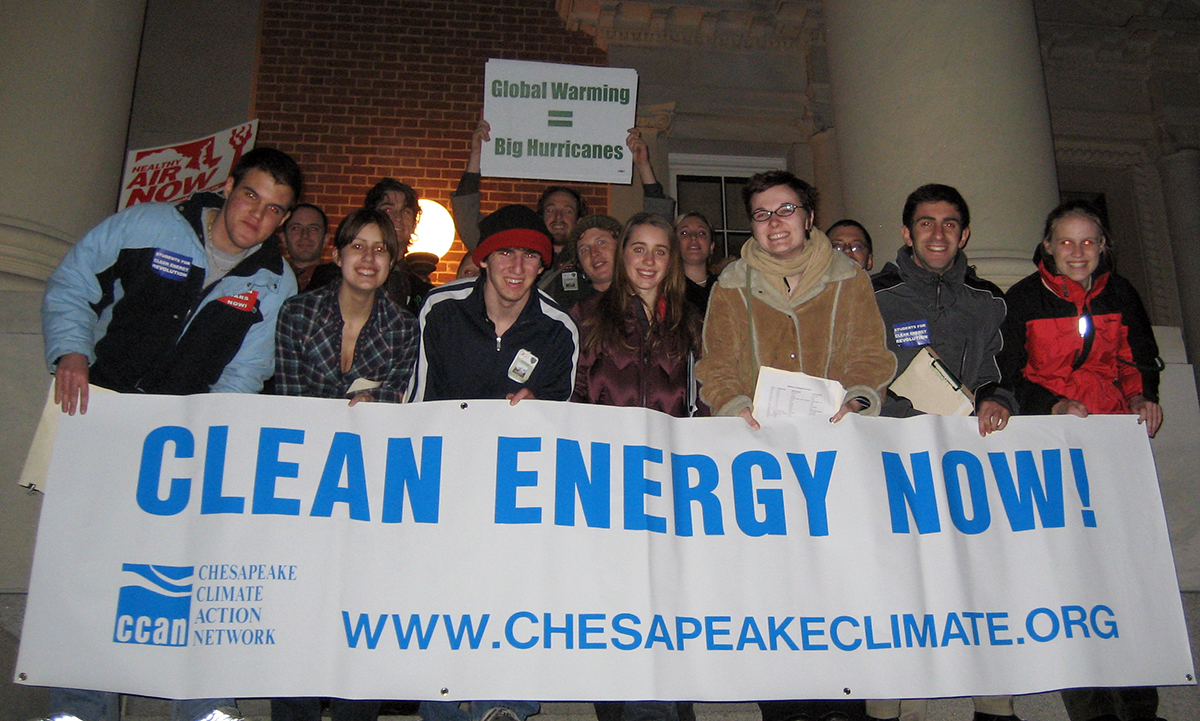 RGGI is the first carbon dioxide cap-and-trade program in the United States. Originally composed on nine northeast and Mid-Atlantic States, CCAN and others lobbied hard for Maryland to become the tenth member when we passed the MD Healthy Air Act.
Maryland Clean Cars Act
March 2007
The Maryland Clean Cars Act will require cleaner and more efficient cars to be sold in Maryland. This policy will bring more hybrids to Maryland, reduce cancer-causing pollution, and take the first steps towards regulating carbon dioxide, the leading greenhouse gas, from Maryland cars.
Maryland Healthy Air Act
May 2006
One of the strongest air pollution standards in the country, this bill requires a 70 to 80 percent cut in ozone and mercury emissions by 2013. It also directs Maryland to join the nation's first and strongest regional cap-and-trade program.
District of Columbia Renewable Portfolio Standard
January 2005
Building on the success of Maryland, a D.C. legislative RPS victory quickly followed suit. The law required to 11% of the District's electricity to come from renewable sources by 2022.
Maryland Renewable Energy Portfolio Standard
May 2004
CCAN's first major legislative battle, Maryland's RPS was signed into law in 2004. It required 7.5% of Maryland's electricity to come from renewable sources by 2019, and its passage marked the beginning of the modern clean energy movement in this region.