Team CCAN Bikes Through the Shenandoah Valley for Climate Action

We did it! CCAN's first ever (official) Climate Ride team participated in the Green Fondo Climate Ride in Shenandoah, VA and we had a BLAST! It was one of the most memorable events I have ever participated in, and I want to tell you about it so that you all join me on Team CCAN next year! 
What is Climate Ride?
The Green Fondo– a play on "Gran Fondo" (Italian for "Great Ride") for all of you cycling people out there– is a weekend biking event hosted by Climate Ride, a 501(c)(3) nonprofit organization that mobilizes people to protect our planet through life-changing adventures. They organize charitable biking, running, and hiking events to raise awareness and support sustainability, active transportation, and environmental causes.
Team CCAN, which consisted of seven riders, has already raised almost $17,000, all of which will go directly to CCAN! Every detail throughout the weekend was thoughtfully planned by the Climate Ride organization – from the bike routes to the food– and even though we had quite a bit of rain come down over the course of the weekend, it didn't put a damper on the fun! 
Day One: 37 miles on Skyline Drive:
On Friday night, we arrived at the Northern Virginia 4-H Conference center and were greeted by the friendly Climate Ride staff– shoutout to Amy, Patrick, and the entire team for the warm welcome! We had smores, got acquainted with our fellow climate riders, and stayed warm next to a roaring fire! We hit the hay early, after we got the rundown on the plan for the morning.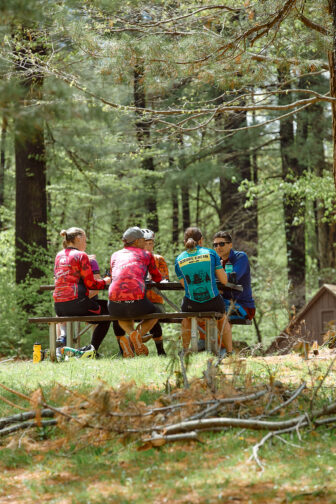 On Saturday, we woke up bright and early and ready to ride. After a delicious breakfast, and a safety talk, we hopped on the bus, our bikes were loaded into the truck, and we were shuttled to the Thorton Gap entrance to Shenandoah National Park. One of the great perks of participating in a Climate Ride event is that they do almost everything for you except the pedaling! They provide the route, the water stops, the lunch, emergency bike repair along the route, the shuttle, and snacks! You quite literally just have to show up with your bike (and do your fundraising of course!)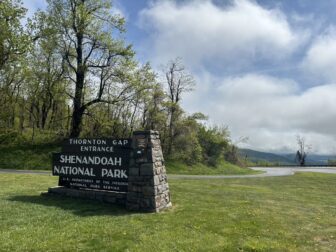 We hit the road at around 10:30 AM and started our journey northward on Skyline Drive. I have driven along Skyline Drive many times, and I have always thought  "wow, those people must be crazy" as I passed bikers, but this time, I was one of them. In all seriousness, I can honestly say that I felt very safe the entire time. The Climate Ride Guides encouraged us to take all of the necessary safety precautions and made sure we were ready to go out and have a safe and fun day in the park on our bikes.
After a long day in the saddle, we rode back into camp having covered 37 miles and climbed 3,000 ft of elevation. Phew- I was beat! We were treated to a restorative yoga session followed by a much needed hot shower. In the evening, Palmyra performed live while we enjoyed local beer and wine and chatted it up with the other riders about the day's adventures.
The Party:
After a delicious dinner catered by Blue Wing Frog restaurant (check it out if you're in the area), we listened to a special talk by Alex Clark, who is the founder of Prime Ability– a youth development program with the mission of building communities and inspiring the lives of young people through fitness. Alex, who is a teacher at Dunbar High School in Washington, DC, started Prime Ability in the summer of 2020 with the goal of getting "more kids on bikes and less kids on the streets." The organization has been growing exponentially year after year, Alex was named a 2023 DC Teacher of the Year finalist, and he has established a National Interscholastic Cycling Association team that is expected to grow to almost 30 riders this coming year! You can follow Prime Ability on Instagram here. They host weekly rides in the DC area for students looking to get out and ride! 
Day Two: Biking in the Rain
On Sunday, we got WET. It was pouring when we left camp for the 20 mile ride, but about 30 of us persevered and we had a wonderful time. Our route took us through wine country, fields filled with adorable cows and their calves and past the roaring Shenandoah river. The Climate Ride team had Apple Cider donuts waiting for us at the water stop before we continued along the route to our first big climb of the day. I'll admit–my legs went on strike at one point and I jumped off my bike to walk up a steep hill. Thank goodness for my awesome fellow climate riders encouraging me up every hill. Everytime I felt like giving up there was someone behind me telling me to push through and keep going. 
Everyone in the Climate Ride community was so welcoming on my first climate ride. I was inspired by the passion these people have for not only the sport, but for the organizations they raise money for year after year riding in events all over the country.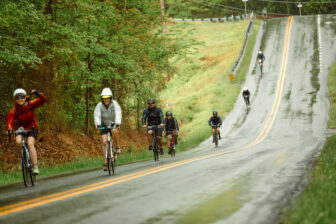 Our Team:
I am so proud of Dan, Lisa, Katie, Connor, Kurt, and Reid! All together, we have already raised ~$17,000 – all of which will go directly to CCAN! If you would like to donate to our team, we would love your support! We have a goal of raising $25,000 and we are able to accept donations until June 30th! Climate Ride is also generously matching all donations.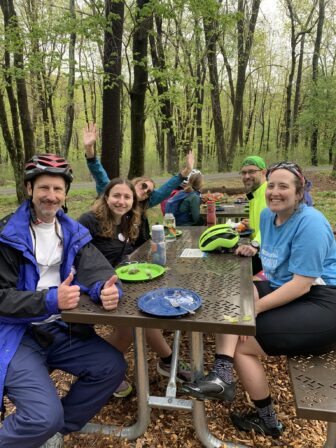 Join Team CCAN Next year:
One thing is for sure, I will be back. Like so many others I've talked to, after one event with Climate Ride, you're hooked! It's an incredible way to fundraise for an environmental organization you are passionate about, a fun way to enjoy the outdoors, and a great way to hang out with people who care about the environment. I'm looking forward to the next East Coast Climate Ride,and growing team CCAN's participation in the event, so be on the lookout for an email from me next year (sign up for our email updates here) to join me out there!
Take a Climate Ride or Hike on Your Own:
Climate Ride hosts hikes and biking trips throughout the year and around the world! They have something for everyone. You can check out their upcoming events here.
CCAN is always looking for grassroots fundraising opportunities like this for our supporters to be a part of. If you would like to participate in a Climate Ride in support of CCAN, have another idea for a peer-to-peer fundraising event, or would like to host a benefit concert or other form of fundraiser, please reach out to our Major Gifts and Events Officer, Jessica Rampulla, at jessica@chesapeakeclimate.org. 
It's also not too late to support Team CCAN and our 2023 ride through Shenandoah! Every dollar donated will go to CCAN AND will be matched by Climate Ride! Support our Climate Ride team today.
Nicole Schroyer 
Communications Manager CCAN & CCAN Action Fund