What was the hardest part about pedaling a bike 300 miles from Manhattan to Washington, D.C.? The head winds in central New Jersey certainly weren't a picnic. The horse poop along Amish country roads was a challenge. Then there were the rain-slippery bridges near St. Peter's Village, PA and the seemingly endless hills of Maryland's northern horse country.
But honestly, the rural scenery was so stunningly beautiful all along the way that the hardest part was just knowing that this pastoral east-coast landscape is in danger of disappearing – soon – because of the unfolding calamity of climate change.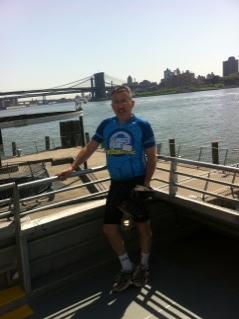 300 miles till D.C.: Saying goodbye to NYC and the Brooklyn Bridge on May 19
I joined the annual "Climate Ride" from New York City to Capitol Hill from May 19-23 for a simple reason: I wanted to put myself through an extreme physical test to draw attention to the equally extreme weather now linked to global warming. Americans are experiencing this weird weather nationwide. As the miles piled up and I pushed myself hard (I didn't walk one inch of the trip!), and I talked to people along the way. A ferryman in New York harbor said storm surges were getting much worse in recent years. A Methodist camp manager near Valley Forge, PA said winter weather never really showed up this year at a place where Colonial troops nearly froze to death in the winter of 1778. The same camp leader said a first-ever tornado destroyed part of the church property last year amid record summer heat.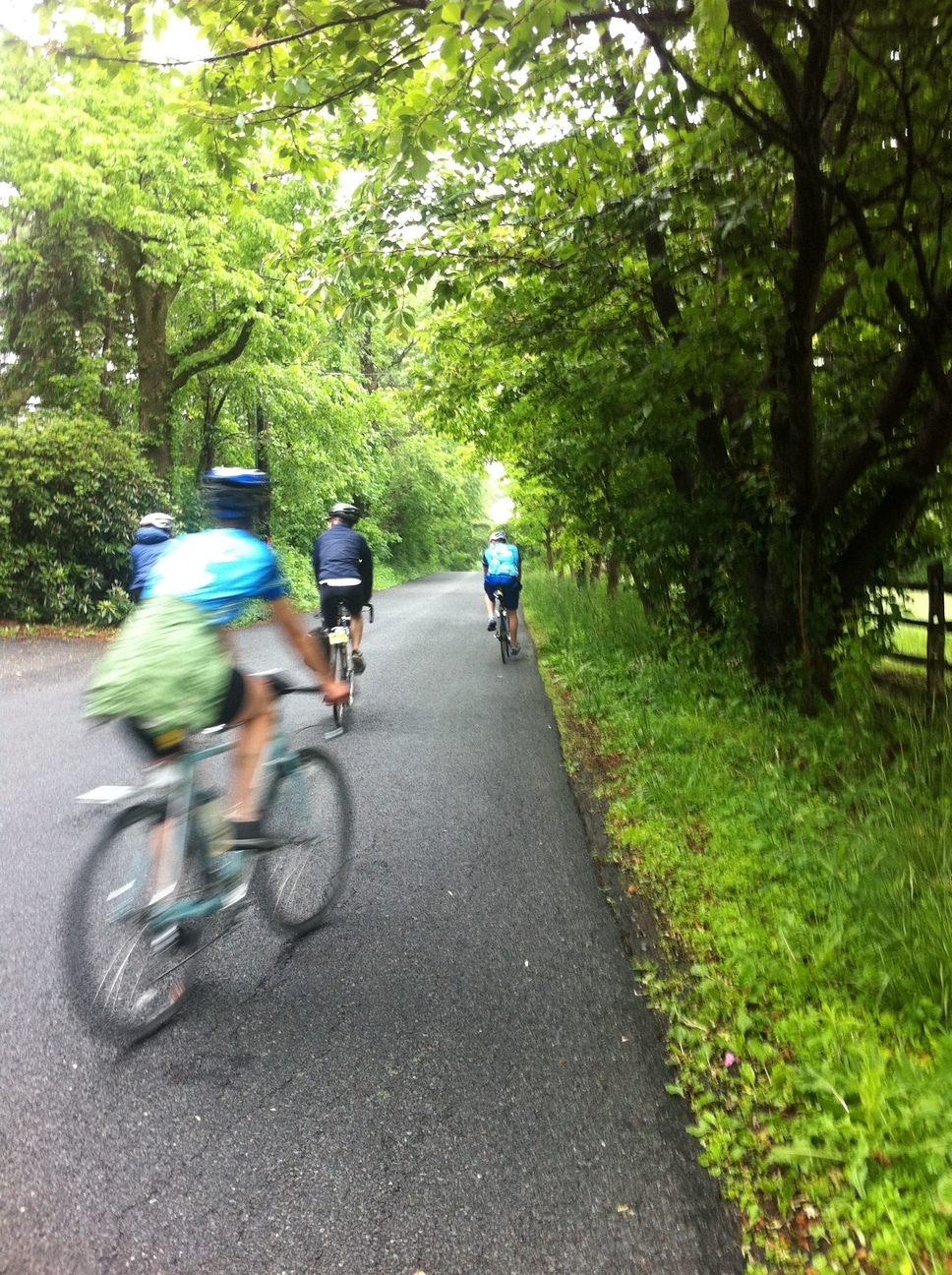 Lovely green tunnels: riding through rural New Jersey on the first day
These are just some of the stories I collected as I pedaled on, stretching the limits of my 50-year-old body over five days. Our planet's natural systems are being equally stretched and the evidence is all around us. We just have to connect the dots. On day three of this trip, our group of more than 180 cyclists from across America passed through Lancaster County, Pa where horse-drawn plows were at work everywhere. Clotheslines full of bonnets and black coveralls flapped in the breeze beside Amish farm houses. We stopped to devour handpicked strawberries along lonely-beautiful two-lane roads as hay wagons rolled by.
But tempering the good vibe were the troubling testimonies of farmers themselves. From New Jersey to Maryland they talked of utterly unrecognizable weather, of planting many crops this year earlier than ever before – earlier than the oldest family members could remember. Apple growers and wine makers spoke of early blooms this spring that shattered old records by a month!
Our world is changing right before our eyes, and riding a bike daily for 8-9 hours across this American landscape simply put me up close with what's at risk and what's already drastically changing. The idea for the Climate Ride was first hatched in 2008 by visionaries Geraldine Carter and Caeli Quinn. This annual ride (there's also a West Coast ride each fall) raises awareness and money for groups like mine – the Chesapeake Climate Action Network — who promote carbon-free solutions to global warming.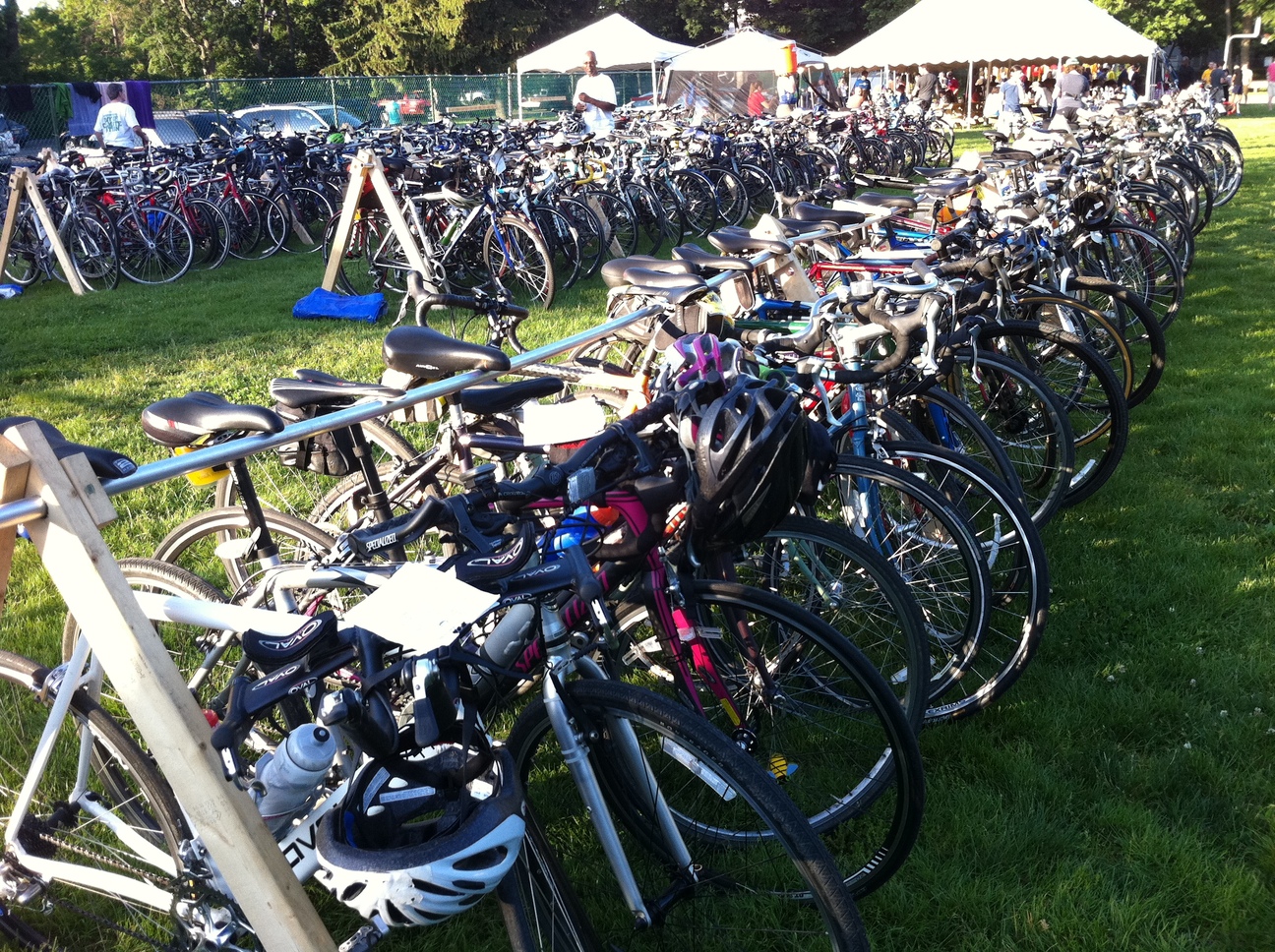 Almost 200 bikes parked for the night in Princeton, NJ
In addition to farmland, this east coast ride took us though long stretches of state and national forests. For
miles and miles we disappeared into exquisite green tunnels. But my friend and fellow cyclist Dave, a former NOAA climate scientist, reminded me that global warming is a huge threat to American forests. Last summer, on a coast-to-coast pedal trip, Dave biked though millions of acres of western forests dead from warming-induced beetle infestation.
Of course human health is equally at risk. On the fourth night of our ride, just outside of Reisterstown, Maryland, I stretched my weary muscles before bed while listening to a local radio station. A Maryland doctor was reporting on the early emergence – by two months – of Lyme-disease bearing ticks across the state. Another record demolished.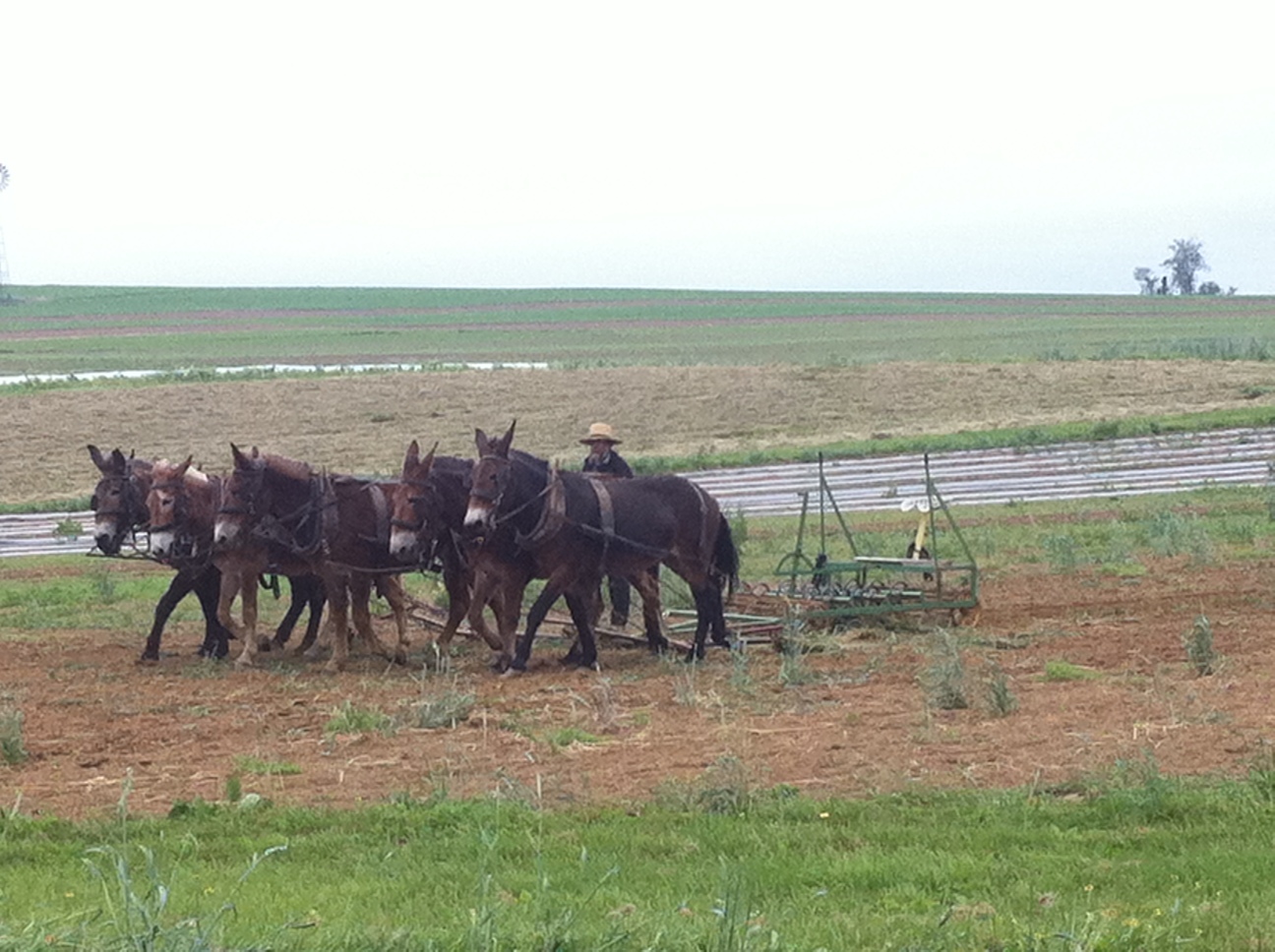 Horse-drawn Amish plow in Lancaster County: oldest family members couldn't remember such odd weather in recent years
Crossing rural PA on day 3: farmers reported extreme weather everywhere we went — early blooms, record-early plantings, tornadoesHow do we maintain hope in the face of such troubling evidence ranging from early blooms to satellites photographs of Arctic ice melt? Speaking for myself, I wouldn't have begun this bike ride if I didn't think that a) I could make it and b) the planet could too. I was inspired by many things along this trip: the red-tailed hawks circling over flowering meadows; the Mennonite choir practicing harmonies at a nearby church hall as we prepared for bed; the cyclist among us who was 69 years old.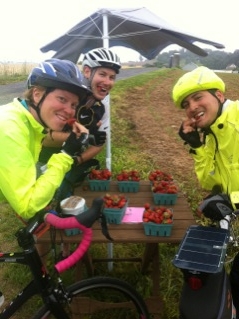 Eating roadside strawberries!!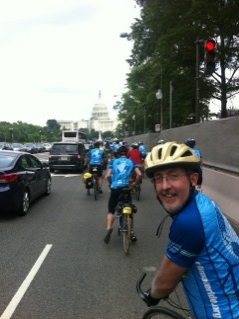 The final mile: rolling toward the U.S. CapitolBut what inspired me the most was the chalk. On really steep uphill climbs, members of the Climate Ride support team would race ahead of us and pull out some colored chalk. They would write messages right on the road so we couldn't miss them as we passed by with our heads bent down to our task, hunched over our sweaty, churning legs. At our toughest moments, in other words, when we felt like quitting, when the climb was the steepest and it seemed like we couldn't go on, the chalk messages would float into our narrow view: Keep Going! Dig Deeper! We stopped the Keystone pipeline! We can stop global warming!
And so we kept pedaling – and pedaling. On the fifth afternoon we finally rolled up
to Capitol Hill, a glorious spectacle of nearly 200 bikers rolling along Independence Avenue, whooping and hollering. We rallied near the Capitol steps. We heard speeches from activists and from U.S. Senator Bernie Sanders.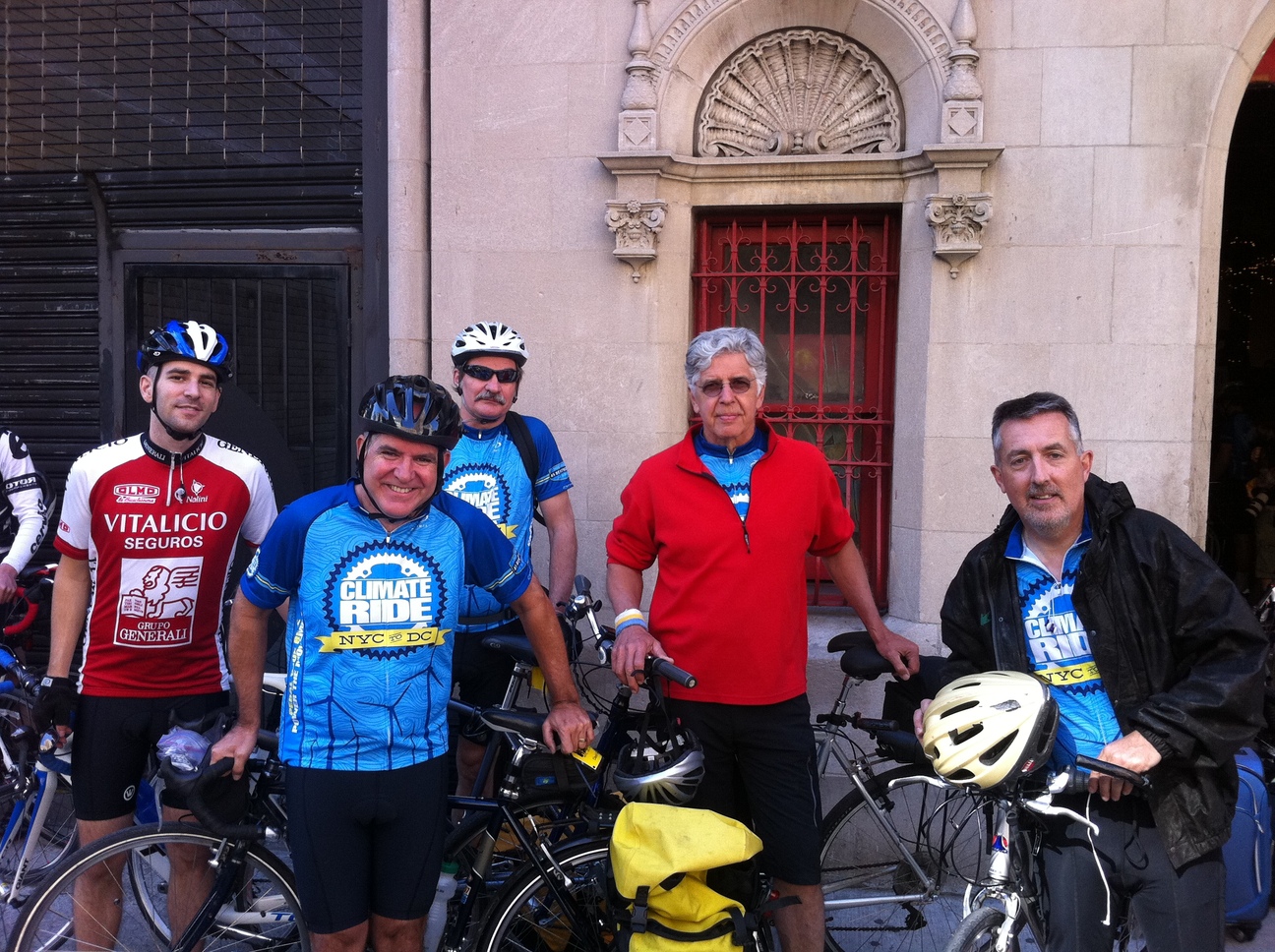 The CCAN riding team: Jay, Dave, Ted, Denny and Mike. Real climate heroes. 300 miles!Then we hugged. We wept. We laughed.
And we all went back home, back to communities all across America, back to doing our part in the uphill climb toward a better tomorrow.
(Mike Tidwell is executive director of the Chesapeake Climate Action Network. He would like to thank his neighborhood bike shop in Takoma Park, MD for getting him totally prepped for all 300 miles. Check them out at www.thegreencommuter.net.)