Night of Action to Protect RGGI
August 3 @ 6:00 pm

-

7:00 pm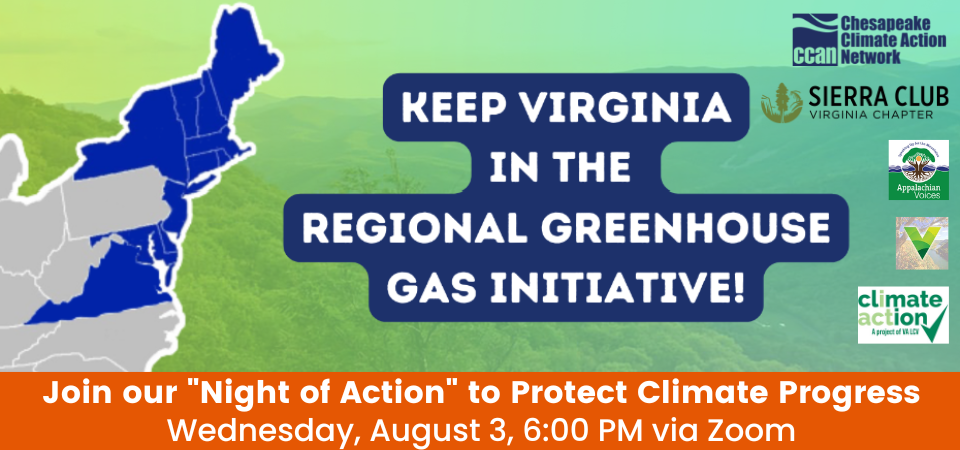 Want to keep Virginia moving forward on climate? We've made great advances in the past few years but now those gains are under attack by Governor Glenn Youngkin.
Join us Wednesday, August 3 at 6:00 PM to tell Governor Youngkin to keep his HANDS OFF VIRGINIA'S CLIMATE PROGRESS!
The Governor's latest moves are beyond low. He has stacked up the citizens' Virginia Air Pollution Control Board with fossil fuel cronies. Now he's planning to use this Board to claim the Commonwealth is in a state of "emergency" due to its participation in the Regional Greenhouse Gas Initiative (RGGI).
Huh? RGGI is a great program that tackles climate change with a regional carbon market. It's already sent $250 million to Virginians to help lower bills and help communities prepare for flooding. Yet Youngkin has threatened to remove Virginia from RGGI since before he was elected. Now, this latest plan is not only reckless and undemocratic, it's probably illegal, too.
The true emergency is the climate emergency. We need RGGI to address it.
RSVP now for the night of action to save RGGI on August 3 at 6:00 PM.
We're hosting this night of action alongside our friends at Appalachian Voices and Virginia League of Conservation Voters. We will hear from policy experts about the possibly disastrous consequences of Gov. Youngkin's plan to roll back our climate policies.
Then we'll take action! Earlier this month, we descended on Richmond for a rousing march to send our message. Now we're bringing this energy back to every corner of the Commonwealth — and we need your support to keep up that momentum.
Sign up now to join us on Wednesday August 3 to make absolutely clear that Youngkin's backwards policies have no place in our Virginia.