"EPA: Please Stop Smoking!" rally demands that the agency break its bad habit of missing industry pollution rule deadlines, endangering our health and climate.
WASHINGTON, D.C. – Today, for the first time under the Biden Administration, over 150 environmental and justice advocates protested loudly outside the office of the Environmental Protection Agency (EPA) in Washington, D.C. to demand faster action on clean-up of deadly fossil fuel power plants. A broad coalition of environmental and justice speakers insisted that EPA quit delaying rules to curb harmful pollution that kills thousands of Americans every year. They said that the EPA has recently taken steps in the right direction, proving that progress is possible, but now the agency needs to move faster and further.
Recent media reports – and this groundbreaking new report from Evergreen Collaborative – confirm that the EPA has missed key deadlines on carbon emissions and other power plant pollutants. EPA has made important progress recently by releasing its Good Neighbor Plan to cut smog and approving the California Clean Trucks Rule to set the pace for nationwide vehicle pollution standards, as well as being poised to publicly release a stronger mercury and air toxics standard proposal in the next few days. Yet, EPA is still lagging behind badly on other critical power plant rules that address a range of issues from carbon pollution and coal ash to implementation of cumulative impact analysis in permitting.
"For the sake of good health, justice, and the climate, we need action NOW from the EPA," said
Quentin Scott, Federal Policy Director of the Chesapeake Climate Action Network (CCAN), the group that took the lead in organizing the rally. "Any further delays by the agency will put lives in danger and create the risk of a future hostile administration arriving in time to reverse everything. We're gratified that EPA has been listening over the past few months, since we started this campaign. We're here today with our allies to urge the EPA to build on recent momentum and break the bad habit of delaying industry pollution rules."
See a complete list of the protesters' demands.
Dr. Lois Wessel, Alliance of Nurses for Healthy Environments, said: "Over 100,000 Americans die of air pollution every year. EPA's habit of delaying rules for dirty-energy power plants means that those plants are continuing business as usual – so people are getting sick, especially in poor communities, and the planet keeps warming. EPA was scheduled to release their carbon pollution rules in June 2022 and then in March 2023 but they punted both times. Now the EPA needs to fulfill that promise and issue those rules before the end of April. Our lungs and planet can't wait!"
Russell Armstrong, Climate Policy Director, Hip Hop Caucus, said: "The EPA has a legal and moral responsibility to ensure our air and water is clean, which requires protecting frontline communities from the adverse health impacts and toxic pollution from coal and gas plants. The Biden administration claimed to make environmental justice and climate action top priorities yet has repeatedly failed to deliver on its own self-imposed deadlines. EPA finalizing these power plant rules is a vital step in fulfilling campaign promises to help vulnerable Americans and set our nation on the path to a cleaner, greener, and more equitable future."
Over a dozen groups joined CCAN as cosponsors of this protest action including: Alliance of Nurses for Healthy Environments, Center for Biological Diversity, Environmental Integrity Project, Food & Water Watch, Green New Deal for DC, Hip Hop Caucus, Interfaith Power & Light, Labor Network for Sustainability, Loudoun Climate Project, Physicians for Social Responsibility, Piedmont Environmental Council, Rachel Carson Council, Third Act, and 350.org Montgomery County.
If you would like to interview one of today's speakers for additional comments, please contact KC Chartrand at kc@chesapeakeclimate.org or 240-620-7144.
Below are photos from the event, including speakers, banners, and more.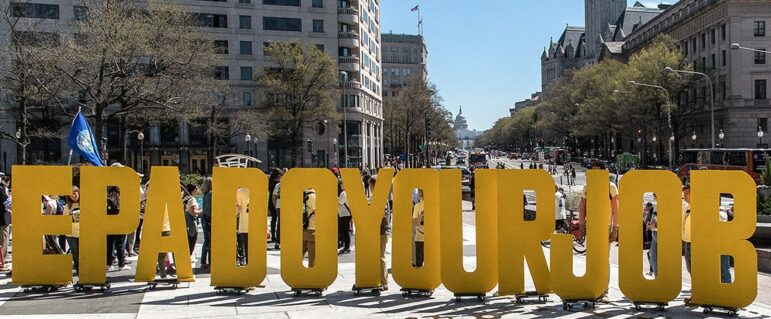 Marching on Pennsylvania Avenue
Quentin Scott, Federal Policy Director of CCAN
Russell Armstrong, Climate Policy Director, Hip Hop Caucus
Dr. Lois Wessel, Alliance of Nurses for Healthy Environments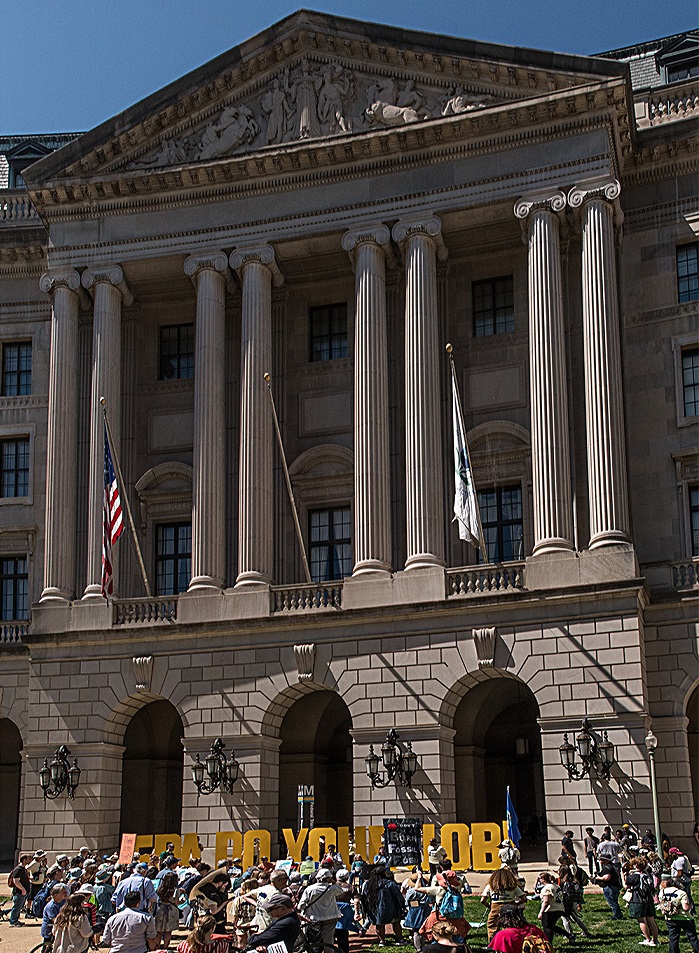 Bringing Our Message to EPA Headquarters
# # #
Chesapeake Climate Action Network is the first grassroots organization dedicated exclusively to raising awareness about the impacts and solutions associated with global warming in the Chesapeake Bay region. Founded in 2002, CCAN has been at the center of the fight for clean energy and wise climate policy in Maryland, Virginia, West Virginia, and Washington, DC.