Coalition states: "We are proposing a win-win solution that would nearly double the acreage available for offshore wind"

ANNAPOLIS, MD—Today, a coalition of unions, developers, justice organizations, and climate organizations sent a joint public letter to the Bureau of Ocean Energy Management (BOEM) urging the agency to expand the areas designated for offshore wind in the Central Atlantic.
BOEM is in the process of finalizing new maps for offshore wind development in the region, and has proposed new leasing areas that are too small to meet the region's offshore wind mandates. A coalition of advocates have proposed an alternative map that would nearly double the new leasing area for offshore wind while meeting the needs of all other ocean users.
The letter includes, in part:
"BOEM estimates that, as currently proposed, the new Central Atlantic lease areas would accommodate between 4 and 8 gigawatts of offshore wind. Even taking the upper estimate of this range, the lease areas cannot accommodate the offshore wind needed in this region. Virginia is required by law to build 5.2 gigawatts of offshore wind. North Carolina must build 8 gigawatts of offshore wind, and Maryland just passed a law to build 8.5 gigawatts. Some of that energy can come from existing lease areas, but to meet those targets set in law, those three states need more than 11 gigawatts of offshore wind in the new lease areas. On top of that, Delaware is also reliant on the Central Atlantic for its offshore wind energy, and while it is not currently building any, it is expected to pass its first offshore wind legislation in 2024.
Offshore wind is vital to our future. It holds the promise of affordable, clean energy that creates hundreds of good union jobs and reduces air pollution. Limiting offshore wind comes with costs. It means fewer jobs, worse pollution, and a less affordable and reliable transition to a clean energy economy. While there are other ocean users whose needs must be accommodated, we are proposing a win-win solution that would nearly double the acreage available for offshore wind in the Central Atlantic while not reducing the width or number of Coast Guards fairways and while not encroaching on ocean space conflicted with the U.S. Navy, U.S. Air Force, or the National Aeronautics and Space Administration (NASA). We hope BOEM will expand the space available for offshore wind in the Central Atlantic by adopting the map [provided]."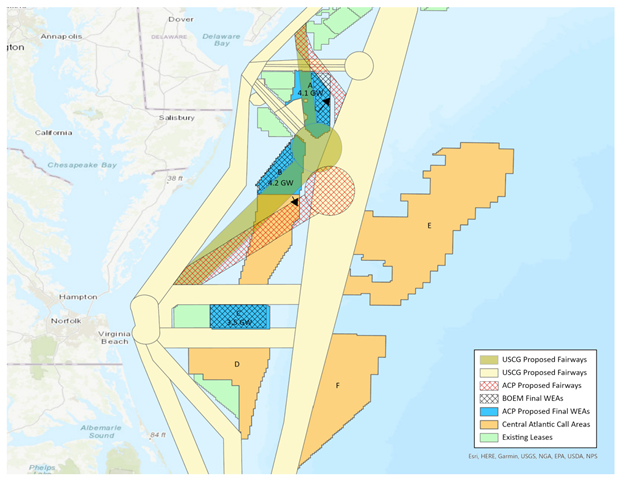 Coalition signers include: Advanced Energy United ● Audubon Mid-Atlantic ● Baltimore-DC Metro Building and Construction Trades Council ● Business Network for Offshore Wind ● CASA ● Chesapeake Climate Action Network ● Climate Law & Policy Project ● Climate Reality Greater Maryland ● Elders Climate Action Maryland ● Environmental Justice Ministry Cedar Lane Unitarian Universalist Church ● IBEW Local Union 24 ● Indivisible Howard County ● Interfaith Partners for the Chesapeake ● Ironworkers Mid-Atlantic States District Council ● MAREC Action ● Maryland LCV ● Maryland Legislative Coalition ● MLC Climate Justice Wing ● NAACP Maryland State Conference, Environmental and Climate Justice Committee ● Strum Contracting Company Inc. ● Unitarian Universalist Environmental Justice Ministry ● United Steelworkers District 8
#   #   #
The Chesapeake Climate Action Network, the oldest and largest grassroots organization dedicated exclusively to raising awareness about the impacts and solutions associated with climate change  in the Chesapeake Bay region. For 20 years, CCAN has been at the center of the fight for clean energy and wise climate policy in Maryland, Virginia, West Virginia, and Washington, D.C.